Driving down Airline Drive during December takes patience but if you travel north enough, a beautiful residential light show is sure to catch your eye.
"There's a nutcracker, a snowman, the drummer boy…" Dee Szelinski names off a few of the characters in the wonderland of lights she created in front of her North Bossier home. 
The thousands of bulbs and LED lights can be seen from Airline. For a closer look though, you can drive and park directly in the front of the home on a service road parallel to Airline in the Greenacres neighborhood.
Each year, Szelinski has a theme with a completely different display. In 2018, the theme was Christmas trees, which featured dozens of trees and colorful lights. In the current display, you'll only find a single tree. Szelinski is not one to show off all of her Christmas décor each year. Looking at her current setup, it might be next to impossible for her to do so unless she started to use some of the neighbor's yard.
"They're in the attic," she says as she recalls last year's décor that didn't fit the 2019 theme. The 2019 theme is all about candy canes! You can find lit candy canes interweaved between toddler size character molds of the Clauses. The canes are also staked into the ground and hung high to catch your eye while driving by.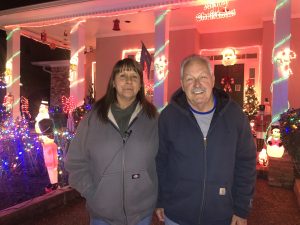 It's a team effort. The grand display takes about a week to set up with help from her husband and father. Her father, Jim McMannes, also builds pieces in his shop to make Szelinski's vision come to life. He carefully selected the wood and complementary elements to create a custom nativity scene. He was also given credit for having the patience to problem solve when a string of lights suddenly goes out or stops working.
Some of the pieces are new to the inventory while others have been around more than 30 years.  Some décor didn't make it through the years due to aging, damage and unfortunate thievery.
"We do this for appreciation, not for somebody to come and take it," she said. But after putting out a sign threatening to not decorate the following year, Szelinski says stealing is no longer an issue.
One might wonder how she knows when something goes missing. Well, she knows. 
"I know the whole layout. I have it on a computer screen so I know exactly what is gone. You know what you put up and how you designed it, then I can compare it with the computer and it'll tell me exactly what's missing."
Her response to this advanced tech inventory?
"I got older, but I also got smarter."
Other improvements made throughout the years include switching to more energy-efficient bulbs. 
"We went to LED because it's cheaper, they burn better and they're also much prettier."
Szelinski says all the lights are on a timer. They turn on at 5 p.m. each night and then go off in a sequence starting at 10 p.m. To have a display so large running for five hours each night, Szelinski says she only pays an extra $100 on her electric bill.
"It's worth it because it's all about the little ones and they love it."
Szelinski says her collection has been purchased from all over – ranging from K-Mart to Wayfair.com.
"We've bought stuff online, from Lowe's, Home Depot, it's just about looking to see what you can find."
To see the display in person, it's closest to the corner of N. Hardwick Dr. and Downing Ct. Visit any day between 5 p.m. and 10 p.m. but also return during October to see another grand display by the same masterminds. This team puts the same effort into Halloween.