Sometimes restaurants can come and go without much fanfare but this establishment created a reputation for serving delicious food and offering a high-end dining experience.  2Johns Steak and Seafood is located on Airline Drive in Bossier City. It is the creation of John Montelepre, Jr. who is no newcomer to the foodservice trade. Now, the restaurant is expanding to include a wine cellar and a large courtyard with a patio. 
"I've been in the restaurant business for 41 years," Montelepre explained. "I went to school at Centenary College and when I graduated I bought 'Leon's',  a barbecue place on Kings Highway in Shreveport and eventually had two locations. I did that for 30 years."
After a successful three-decade run in smoked meats and barbecue, Montelepre retired from the foodservice industry for about six years. But he always wanted to open a venue in Bossier. His son, John Montelepre  III, who had been working as a pastry chef elsewhere was also looking to make a change.
"My son wound up being a chef out of college which I didn't expect," said Montelepre. "He went to (Louisiana) Tech majoring in business management and engineering, but he had two restaurant jobs while he was there.  After college, he was a pastry chef and the place he was working at wanted to add lunch which would mean too many hours so I had a talk with him and said let's go do a restaurant."
Choosing the name would be easy as the father and son team would combine their talents to make a mark on the local food scene. So in August of 2009, 2Johns Steak and Seafood opened at 2151 Airline Drive in Bossier.  And in the 10-plus years since, it has become one of the most favored dining venues in Bossier City, as well as, northwest Louisiana. 
While glowing reviews of 2Johns can be found just about everywhere, there is a special recognition from OpenTable, a leading provider of online restaurant reservations that Montelepre says stands out from the pack.  2Johns Steak and Seafood received the OpenTable Diner's Choice award in 2015 for the best overall restaurant in Shreveport-Bossier.
"OpenTable Diner's Choice Awards are the most meaningful because they come from the customers we serve," Montelepre explained. " We received recognition among Open Table's Top 100 Steakhouses for 2014; there are only six in Louisiana and we are proud to be named one of them. Customers can see our awards sitting in the restaurant foyer when they come in."
In the years since 2Johns has kept pace with the demands of the restaurant trade, it still maintains its reputation for high-quality dining. It consistently receives excellent reviews in all categories, especially when it comes to serving steak.

"We use a Prime steak and it makes a huge difference," Montelepre says proudly. "Here, you can cut your steak with a fork. But I have plenty of seafood too, in fact, I have customers who have come here since I opened and they have yet to order a steak because the seafood is excellent."
One such seafood item is the blackened Verlasso salmon cooked in a cast iron and topped with strawberry and mango chutney served with whipped red potatoes and sauteed spinach.  For USDA Prime steaks, hand-cut tenderloin or steak au poivre are both long-standing favorites. And another facet of 2John's appeal with customers is a staff that delivers attention to detail and service. 
"We've got a great staff, I truly believe I have some of the best people around," said Montelepre. "We do a lot of little extra things here that other restaurants don't do and when you add up all those other little things, it kind of separates you from everybody else."
One of those employees who goes the extra mile is 2Johns resident wine Sommelier Greg Hornbeak who is the "go-to guy" for picking out a nice bottle of wine to compliment a dinner at 2Johns.
"I've been in the business going on 40 years working with chefs and picking up wine knowledge," Hornbeak said. "I've been at 2Johns since we opened."
While 2Johns' wine list has some premium labels in the upper price range, there's plenty of options for someone who wants a good wine without breaking the bank.

"I will talk to the customer and get some idea of what they like, the type of food they're having and I can recommend wines that would be reasonably priced but a great taste," Hornbeak explained.  "But I also can suggest a good choice of wines for someone who would like to break away from the entry-level too."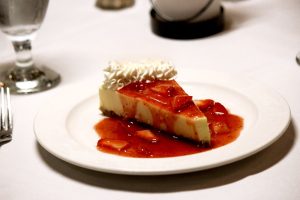 Besides having great food, scrumptious desserts, refreshing cocktails and a huge wine list, 2Johns also provides live music, a feature that's been a fixture at 2Johns since it opened.  But not to be content with status quo, 2Johns is adding some changes that will certainly create some buzz among patrons and those who haven't yet had the experience.
"Right now we are working on adding a wine cellar, we're building an enormous courtyard along with a big patio," Montelepre said. "Everything should be complete in about four months."
2Johns Steak and Seafood is much more than a restaurant that offers fine dining. It is a rare combination of high-quality cuisine wrapped in an atmosphere of modern elegance with old-school service excellence.  For those looking for either a romantic evening or family celebration, 2Johns Steak and Seafood won't disappoint.
Address: 2151 Airline Drive