The residents and business leaders in north Bossier now have a new, informal way to stay in touch with leaders and find out important information in their area through the North Bossier Luncheon.
Bossier Parish School Board Representative Adam Bass along with fellow School Board Member Tammy Smith, Bossier City Councilman David Montgomery, and Bossier Parish Police Juror Jack "Bump" Skaggs kicked off the monthly North Bossier Luncheon on Tuesday, Feb. 11 at the Bossier Parish School for Technology and Innovative Learning (BPSTIL).
"Our hope is that we will be able to better inform and communicate with the community. I think the more informed the community is, the more interaction they have, the better we will be able to move forward as a parish," Bass said. "We only stand to gain when north Bossier business owners, residents, community leaders, and elected officials come together in an open forum on a consistent basis to discuss growth, economic development, community involvement and the future we envision."
Luncheon co-organizer Bump Skaggs saw the need for the luncheon as both a member of the Bossier Parish Police Jury and resident of north Bossier.
"Adam Bass had some new, fresh ideas on how we can get into the community, so we thought it would be a good opportunity to get together and let someone from this part of the parish talk about it," he said. "There are a ton of projects up here, the school system in this area is growing, and the city and police jury are doing a lot in north Bossier."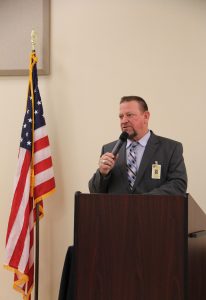 Councilman David Montgomery, who also helped organize the luncheon, said that the informal arrangement will be another avenue to bring community leaders together to inform the public about what is going on with where they live.
"We saw an opportunity to bring the governmental bodies and community together to let them know how we're working together, what's on the horizon, and how we're handling the issues that face each and every one of us," Montgomery said.
The North Bossier Luncheon was inspired by the South Bossier Lunch Group that sees community leaders and residents discuss the growth, economic development, community issues, and business future of the area.
Skaggs noted that the South Bossier Lunch has been a big success, saying it's been a good way to disseminate information in that area of the community and that the residents and people in that area are fans of it.
Bass echoed that, saying, "We were most definitely inspired by the success of the monthly South Bossier Luncheon. South Bossier has been having a luncheon for a little over a year now and I've been to several of them. I knew we need something like that in north Bossier."
South Bossier Lunch Group Organizer, and Bossier Parish School Board member, Shane Cheatham said he was excited to see north Bossier having their own luncheon. He said in their year hosting the south Bossier lunches, it has seen steady growth.
"The more business people and community members who come out to our luncheon, it makes for a better Bossier City," said Cheatham.
School Board Representative and South Bossier Lunch Group Co-organizer Dennis Bamburg said their luncheon has been a great way to visit with other individuals that are interested in the "Good News" in their community, city, and parish. 
"We include newly opened businesses, political candidates running for office, elected official updates, and more in the luncheon. It has truly been a great honor to be a part of this community event," Bamburg said.
Bossier Schools Superintendent Mitch Downey was the guest speaker for the first lunch. He began by noting that those in attendance were there for information and he wanted to share as much as possible.
He updated attendees about the climate of Bossier Schools, specifically discussing the school board's approved student attendance zone plan for the 2020-2021 school year.
"There are 23,000 students are in Bossier Parish Schools. When we originally started looking at this, we were thinking three to four hundred students were going to be impacted. Now we seeing that 1,100 – 1,200 students will be impacted," said Downey.
He also answered an audience question about finding sustainable funds to increase teacher and employee wages.
"This is something that is difficult and complex, and it's a task we have taken on since last May," Downey said. "We want to roll an idea out this summer. But we want to make sure that we are thorough and cautious about how we do that."
Bass thought the luncheon got off to a great start with an interactive group of approximately 60-70 attendees who weren't afraid to ask questions.
"That type of access to the superintendent is amazing for the public, it allows them to get their questions answered directly. It's a great template for what we want to see in the future and I'm looking forward to how we're able to grow it and keep the people in Bossier informed," Bass noted.
The meetings will be held on the second Tuesday of every month from noon to 1 p.m. at BPSTIL. The next meeting is Tuesday, March 17.