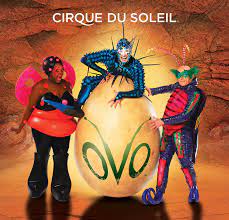 So, have you ever seen Cirque du Soleil perform? Or better yet, do you know what Cirque du Soleil is?
Cirque du Soleil started as a group of street performers in a small town near Québec City in Canada in the early 80's. After viewing a beautiful sunset in Hawaii, Originator, Guy Laliberté, thought of the name Cirque du Soleil (literally translated, "Circus of the Sun") to describe his troupe. He was mesmerized by all of the life, and color, and beauty and felt that best articulated what his performers offered their audiences.
One of the most interesting things about Cirque du Soleil, is that instead of stagehands changing the props from scene to scene, they utilize nonstop live music, with performers continuing to engage their audience with literal death-defying moves, that transition in that moment to whatever act is next. Each performance also has a main storyline that is woven throughout each of the shows. OVO…meaning "egg" in Portuguese…is a story about a new day in the life of insects and is considered their most family friendly show to date. This show highlights and celebrates unique personalities and abilities of certain insects. Did you know that insects have personalities?? Yeah, me neither! From colorful crickets bouncing stories high off of their trampolines, to a beautiful hypnotic spider contorting inside her web, this is one Cirque du Soleil show you are not going to want to miss.
More than 7 million people, in 155 cities and 26 different countries have seen this show…and they are coming here to the Brookshire Grocery Arena. We are their first stop on the OVO tour! Cirque du Soleil will have 5 performances February 11 – 13, so there is sure to have a show time that will work for you. To purchase tickets, you can go to: https://brookshiregroceryarena.com/events/cirque-du-soleil-ovo/. Let's get out and support this event. The more our community engages with these opportunities, the greater chance we have to continue to bring new and exciting events here. See you at the Cirque!