Northwest Louisiana certainly has its share of great cycling opportunities. Lots of great road biking in north and south Bossier Parish, plus several off-road options.
The Durden Hills Nature Trail, located at the southern-most end of the 34,000-acre Bodcau Wildlife Management Area in eastern Bossier Parish, is one of northwest Louisiana's finer mountain bike trails. This tight and twisting mountain bike trail has about 7 miles of challenging climbs and descents–certainly enough to take your mind off of anything other than riding the trail. Originally built as a hiking trail through mature hardwood forest, it has, over time, become very popular with the mountain bikers. Maintained mostly by volunteer mountain bikers, it keeps its wild edge and exciting ride.
The trailhead is located just southwest of the dam on the road leading to the campground. The trailhead features a great map of the trail and water fountain. Leaving the parking lot, you will ride about 1 mile before crossing a road and heading down a fun and fast downhill. The trail winds 4 miles through the woods on the other side of the road, and after 5 miles you'll cross the road again and finish the trail at 7 miles. To get there: Take exit 33 on I-20 about 13 miles east of Bossier City, head north on Hwy. 157 another 11 miles through Princeton, La. Turn right on Bodcau Dam Road follow the signs to the campground. Be sure to sign in and out at the game checking station on your way to the trailhead.
Keep in mind that this trail is located within a wildlife management area, and as such, there is hunting allowed on parts of the trail. The majority of the trail lies within a "Safety Zone," but users should take every precaution during hunting season to avoid the area where hunting is allowed.
The Arthur Ray Teague Parkway in Bossier City that follows the Red River has a running and biking trail that starts by the Diamond Jacks Casino parking lot near the East Bank/downtown area and extends down river to the Red River National Wildlife Refuge about 6 miles. It's a very nice ride, with access and parking several places if needed. The Red River Wildlife Refuge has a nice hiking trail if you want to stretch your legs before riding back down town. If you are riding on the path, please remember it is a multi-use path and be courteous of other runners, bikers and walkers you may pass. While it's not a mountain bike trail, it is a nice ride, and one you can bring the whole family on.
The sport has been growing in the area, and having lived here since 1998, I have seen quite a bit of growth and hope this leads to more mountain bike trails. Really, you don't need a mountain, just some good single track. There is quite a bit of wooded land in north Bossier Parish and quite a few places that someone could set up a few miles of single-track trails.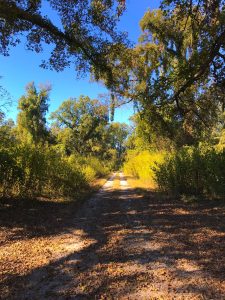 Several other parks in neighboring parishes offer a choice of trails to explore and plenty of good food, (my favorite part!). Caney Lake in Minden, Lake Bistneau State Park in Webster Parish, Monkey trail in Caddo, and Lincoln Parish Park to name a few.