Local artisans and makers will showcase their handcrafted goods, crafts and art on Saturday, March 24 for the Bossier City Makers Fair at the Louisiana Boardwalk. This fun celebration will be from 10 a.m. to 6:30 p.m. There will be free admission as well as free parking at this family-friendly event.
Over 110 Makers will be at the fair selling jewelry, pottery, furniture, soap, clothing and much more! The event is designed to help encourage the growth of local makers, artists, crafters and musicians in the community.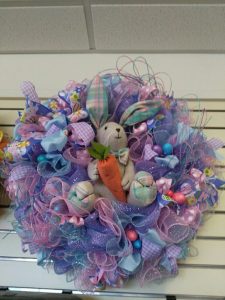 Local wreath maker, Pam Smith, will be selling her creations at the Makers Fair on Saturday. Smith says she'll have spring and Easter centerpieces, door hangers and wreaths for sale. She loves coming to the Makers Fair.
"It's a lot of fun," Smith said. "I've made some great friends. It's kind of like the circus where you set up and you get to meet so many different people. It's a great opportunity to get out there."
Making wreaths has become a therapeutic hobby for Smith who retired last year from 19 years of field sales work with General Mills. She says it has helped her a lot after she had to have several surgeries. Smith is looking forward to being at the fair on Saturday.
"I hope the wreaths make them happy and brings a smile to their face," Smith said.
The fair on Saturday will be the second Bossier City Makers Fair. Chris Graham, owner of Man Made Soap and organizer of the fair, says they hope to have this event twice a year with one in the fall and one in the spring. He says it's a great way for the area to support local artisans.
Graham will be at the fair with his soap company Man Made Soap. Their table will be set up near the fountain at the Boardwalk. They will be selling their quality handmade soap as well as some of their other products like bath salts and handmade lotion. He enjoys interacting with his customers.
"Meeting new customers is great and so is talking to the customers and other vendors," Graham said. "It's a big family. Everybody knows everybody. It's nice to be surrounded by other makers. You start swapping recipes and philosophies."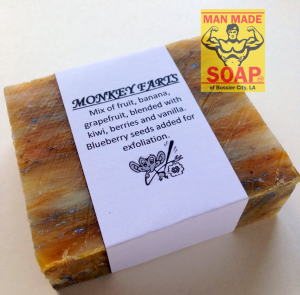 Man Made Soap has been operating for 6 years now. Their best-selling item is a soap comically called, "Monkey Farts." Kids and adults love the fruity soap that boasts a blueberry and banana scent. Graham hopes to help customers take better care of their skin. Man Made Soap has an eczema soap as well as a soap for poison ivy. All of their products are made with natural ingredients.
"Natural is better than all the chemicals that you'll find in store bought soap," Graham said. "Plus it just smells great."
You can find many more amazing products at the fair on Saturday. There will also be live music, food, bounce houses and more family fun activities there. So come on out and support your local artisans!
Pam Smith, Lee & Cherie Floral Designs
Facebook: https://www.facebook.com/LeeAndCherie/
Chris Graham, Man Made Soap
Facebook: https://www.facebook.com/manmadesoapbossiercity/
Bossier City Makers Fair
When: Saturday, March 24 from 10 a.m. to 6:30 p.m.
Where: Louisiana Boardwalk
For more info: http://bossiercitymakersfair.com/