When military families move to Bossier, there is one woman who is their greatest resource. Georgette Price is the DoDEA Grants and Military Services Manager for Bossier Parish Schools. One aspect of her job is to make sure military kids have a smooth transition into the school system.
"I am the first point of contact for military families as they are moving here. I can answer all of their questions about transitioning into our school district."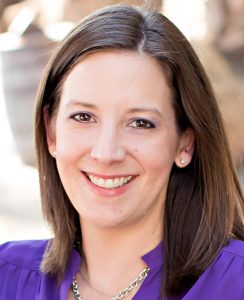 Part of her job includes serving as the project director for two large DoDEA Grants that Bossier Schools was awarded based on their high military numbers. She helps decide where the funds will be allocated. The grants are designed to add additional social and emotional help to military children as well as academic support. Although these programs are specifically created for military children, all children are invited to participate.
The Military Services portion of her job is where Price gets to help military families the most. She connects them with local community resources and answers questions about registration and attendance zones among many other topics.
Bossier Parish Schools also offers School of Choice. This means the children of members of the United States military personnel residing on Barksdale Air Force Base are permitted to attend any grade-appropriate school within the Bossier Parish School district. It is conditioned only on capacity of the receiving school, as determined by the School Board, and a mandatory annual review process. Price says this gives military families more options.
"The reason that Bossier Parish wanted to offer this to military families is because we feel military students don't have a choice on where they live," she said. "They're born into it. They don't have a choice so it gives the students and the families a little bit of that choice back. The military will move them wherever, but it gives them more choice and power to choose where they can go to school."
Month of the Military Child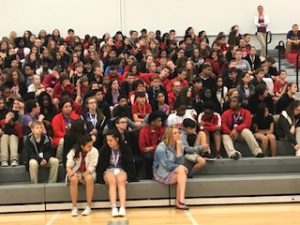 April is the Month of the Military Child. Bossier Parish Schools celebrates this month with various activities including Purple Up Day where students and faculty can wear purple shirts to show their support for military children. Price says it is an important event for everyone.
"We here at Bossier Parish understand that a child has limited choices in their life," Price said. "Sometimes we don't recognize the sacrifices that they make as well. The Month of the Military Child is not just for Bossier. We celebrate it here because we understand that our military children make a lot of sacrifices and they do serve as well."
Since Price's husband was active duty for some time, she finds that she can connect with the parents and military families that she encounters. She is able to give them advice and show them resources they need to transition into life at a new location.
"I try hard to be a great resource for them. I've been in their shoes before. I have 3 children of my own. We've experience everything there is to experience with moving and changing school districts. Sometimes it's just knowing there is someone they can talk to that knows how they feel."
Price encourages the community to welcome all military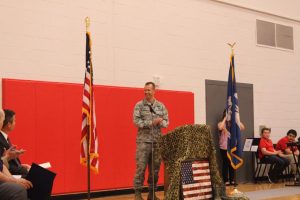 families especially those they know are moving to their neighborhood.
"Reach out to them. Bring them cookies and treat them like any other new neighbor. Find out what they're looking for, get to know them and let them know you're there to help and support them."
Most of all, Price says to thank military spouses and military children in addition to the servicemembers because they make sacrifices too.
"We want to remind people when you see someone in their uniform, look to the right and left of that person, and look at the spouse and the children to say thank you because they serve too."
For more news about Bossier Parish Schools, check out our education blogs.