Built in 1931, Barksdale Air Force Base continues to be a huge asset for Bossier Parish 87 years later. The base brings together people of all walks of life and the community benefits from this diversity. Whether you've been on base to visit the Global Power Museum or you've been to one of the many exciting air shows the base hosts, there is a lot to love about having an Air Force Base located in Bossier Parish. Want to know more info on our beloved base? Here are 6 facts that might surprise you:
1. Barksdale Air Force Base is Bossier Parish's Largest Employer
As of 2017, it was recorded that over 6,000 active duty/reserve military members work on base along with over 1,500 civilians. This proves that not only is Barksdale important for our nation, but it is very important for our local economy as well. The base has grown to become a major source of revenue and employment for the area.
2. The Base is Named in Honor of Lt. Eugene Hoy Barksdale

In August 1926, Lt. Eugene Hoy Barksdale, U.S. Army Air Corps, lost his life while flight testing Douglas O-2 observation airplane over McCook Field in Dayton, Ohio. The base is named in his honor.
3. Barksdale Covers 22,000 Acres
Construction began on Barksdale in 1931 after citizens became interested in hosting a military flying field. The facility was dedicated on February 2, 1933 when it became the world's largest airfield at the time of its opening. After the Air Force became an independent branch of service, Barksdale Field was renamed Barksdale Air Force Base in 1948.
4. It Became a Safe Haven for Former President George W. Bush
Following the terrorist attacks on September 11, 2001, Barksdale Air Force Base became a safe haven for then President George W. Bush on his return flight to Washington DC. He even delivered remarks to reporters from a podium at the base.
5. Retirees Love to Stick Around
After retiring from the military, some service members decide to stick around Bossier. In fact, it was last recorded that 20,900 retirees live within a 100-mile radius of the base. They know that Bossier Parish is a great place to retire and it gives them comfort knowing they are close to the base in case they need to make a trip to the BX or the Commissary.
6. Air Force Global Strike Command Headquartered at Barksdale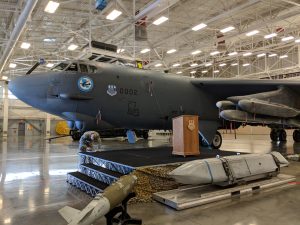 Activated in 2009, the Air Force Global Strike Command is the latest command headquartered at Barksdale. This means Barksdale plays a pivotal role in providing a large part of the nation's deterrent force. A total of 48 B-52's are assigned to the base.
Did you know any of these Barksdale Air Force Base facts? If you're looking for more military blogs, check out our write-up on service-members as they share their Bossier favorites.