Known for its high employment and healthy business community, Bossier is a great place to work. The people that work in Bossier are just as diverse as the range of jobs that are available.  People here take pride in what they do and where they work, so let's find out about them and why they love their jobs in Bossier.
Kristen Edson is the Bossier Parish Central Library Manager. Originally from Swartz Creek, MI, a suburb of Flint, Kristen spent the last 10 years working for the Chicago Public Library as an Adult Services Librarian. In October of 2017, she packed up herself and her cat Eliza and moved to Bossier.
When she's not working, she spends time outdoors, visiting local restaurants, cooking, and volunteering through the Young Professionals Initiative. Now let's find out more about Kristen…
1. What made you want to work at Bossier Central Library?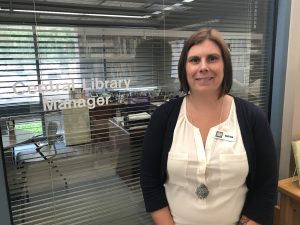 The Central Library will be undergoing a renovation and expansion of the building and services. I wanted to be a part of creating this new space and help lead the vision of what Bossier Parish Libraries will look like in the future. I also really enjoyed my visit to the area during the application process. All of the staff and administration were so welcoming and accommodating.
2. What is your favorite thing about working at the Library?
I take joy in helping others and providing services that are needed in the community.
3. What does BPL do for its employees that makes you feel appreciated?
The administration really makes you feel heard when you offer suggestions for improving overall service to the parish. They also give employees the freedom to try new ideas for community engagement and events.
4. Is there anything about the culture or benefits of your job that sets it apart from other jobs you've held?
The overall organizational culture at Bossier Parish Libraries is diverse and very welcoming. Benefits of working in a library are that you can follow your passion and share that passion with the community that we serve. For instance, we have some very crafty employees here that have started a monthly series to teach specific crafting projects to attendees. There are very few workplaces that allow you to step out of your daily responsibility box and work on something fun like ribbon wreaths or organizing a poetry slam.
5. What do you want to accomplish through your position there?
My main goal is to create an innovative Central Library space that will serve my community's current and future needs. I also want to connect more with the community and local organizations. I want them to know that the library is here to support and work with them.
6. What would you want other people to know about your workplace?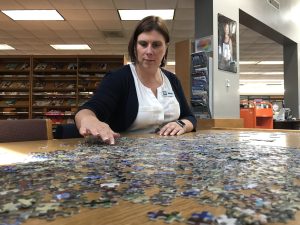 That the library is more than just books! We have a lot of current and innovative resources for people of all ages and walks of life. We supports the educational and entertainment needs of Bossier Parish. We get into library work because, as individuals, we want to help others. It's awesome when you are interacting with a person and you see them learn something that has a direct impact on their current situation. That is the best form of recognition, that and a thank you, which we hear often.
Want to read about more folks that are lovin' their job in Bossier? Check out our last blog on David Brossette at Margaritaville Resort Casino.