With the recent boom of recurring events like the Bossier City Farmers Market, the city has stepped up its food truck game when it comes to grabbing a quick bite while shopping or eventgoing. No matter the cuisine, food trucks are definitely convenient.
This summer, residents can enjoy a bite to eat from a number of food trucks in Bossier. Here are three trucks we spotted in our search for a bite of Bossier curbside:
Yes, We're Cookin Food Truck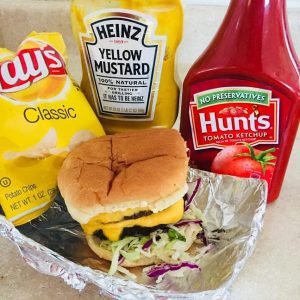 Ray Monroe, owner of Yes, We're Cookin Food Truck, says he loves his customers in Bossier Parish.
"Bossier Parish has been great. From the schools to the churches in and around Haughton – they are amazing."
His truck has made its way around Bossier Parish and through Haughton cooking traditional fried chicken, burgers and hotdogs.
Monroe has owned the truck for three years and started the venture after seeing a food truck court in Dallas. He thought it was a creative way to experience a variety of food at one location.
"The ultimate goal is to own a restaurant, but the food truck is easier to move around," he said. "There is a good market for food trucks in Bossier."
If you want to taste the best of Yes, We're Cookin, Monroe suggested his specialty item, a boneless pork chop sandwich. But this food truck is more than just for events or venues, this past year, Monroe fried turkeys for the holidays.
If you are in Bossier Parish and smell something tasty at a spot for food trucks chances are, "yes, [they are] cookin!"
Next spot:  Food Truck Nights at The Eleven, 1529 Texas Ave., Shreveport
When: 7 p.m. on June 1
Most recent park: Man Church at The Stable in Bossier
Cater: Yes
Follow them on their Facebook page.
UNeeda Taco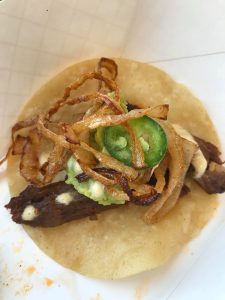 Who doesn't "needa" taco? This truck steps up the traditional taco with creative concoctions like their most recent carne asada with a pineapple habanero cream sauce taco complete with fresh guacamole.
The truck served this at the Holmes Honda in Bossier City's grand opening event and food truck smackdown. Joey Trejo, owner of UNeeda Taco Food Truck, has a strong background in the food industry being that his family owned the Shreveport-Bossier City chain, Trejo's. Aside from owning a restaurant, Trejo started mastering his tacos truck style in October 2017.
"We decided to give it a try and found a truck and purchased it," he said.
From there, UNeeda Taco has been into a couple of local competitions. In early May, the truck was a competitor in the most recent Food Prize's Taco Wars. At the event, Trejo offered chorizo, carnitas, barbacoa, jerk chicken and potato with chorizo tacos. The chorizo taco is Trejo's favorite and is the one creation he worked the hardest on to perfect.
Aside from the food competitions, Trejo said he loves parking in Bossier and feeding hungry locals.
"In Bossier, man, they eat us up! Being a new kid, it was a challenge to pack a whole restaurant in one truck," he said.
As soon as you see the Uneeda Taco truck, you can't miss it. This bright yellow truck makes you want to slow down and get a taco. In fact, many Bossier City natives call this the best Mexican food in the city and one of the best food trucks in Bossier. You may want a taco, but you also "needa" one too!
Next spot: Bossier City Farmers Market at Pierre Bossier Mall
When: 9 a.m. to 1 p.m. on May 19
Most recent park: Holmes Honda Bossier City
Cater: Yes
Follow them on their Facebook page.
Bayou Bistreaux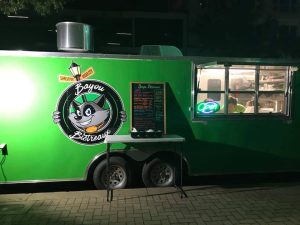 Bayou Bistreaux is one of the newer kids parked on the block. Sharon Bass, owner of Bayou Bistreaux, started serving up food truck favorites with Shelley Johns, an independent contractor, in late April.
Of course the convenience of owning a food truck is what sets most apart from restaurants, however, it is noted on their Facebook that Bayou Bistreaux is more of a mobile kitchen.
"When the food inspector came in to look at our kitchen, they said, 'this is the poster child of what a mobile kitchen should look like,'" Bass said.
Bass also set the food trailer apart from others by giving the business a friendly, furry mascot. Rowdy the racoon graces the logo and greets customers as they choose an option from the menu.
"We are looking forward to people coming out and eating our food and saying, 'ooooh yea,'" she said.
Bass highly recommends the chicken and sausage gumbo for those hot summer months when you crave the Cajun dish, but do not want to make it yourself.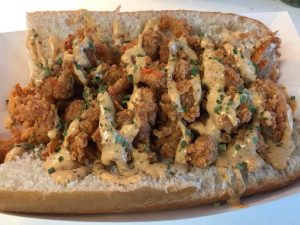 For those in Bossier looking for a unique bite, go for the fried crawfish mac and cheese balls. These delight in every sense, from the look (garnished with greens and a fresh sauce) to the taste (fried to that crisp on the outside and cheesy, crawfish perfection on the inside.) Check out this kitchen making its way in and around Bossier Parish.
Next spot: The Recovery Room/Friends Cocktail Bar, 1655 Kings Highway, Shreveport
When: 11 a.m. on May 16
Most recent park: Downtown Shreveport on Texas Street
Cater: Yes
Follow them on their Facebook page
With food trucks becoming a growing trend, this might leave some wondering what the laws are for food trucks in Bossier.
According to Sam Marsiglia, Director of the Zoning Department for Bossier's Metropolitan Planning Commission (MPC), food trucks are allowed to park where they have permission from the property owner. MPC is working on an ordinance for food trucks that is in development and should be complete in the coming months.
In the meantime, food truck owners can consult the MPC if they have any questions in regard to food truck certifications and permits.