There have been many discussions over the last several years regarding Bossier's growth and the reasons for it. So, is business in Bossier really booming?
"True growth is measured by opportunities for citizens and families to thrive in their community," said David "Rocky" Rockett, director of the Greater Bossier Economic Development Foundation. Rockett's job is to secure economic projects and new businesses for Bossier Parish.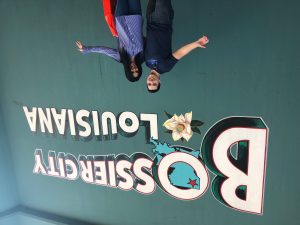 "I have had the good fortune to be in a position over the last 14 years to witness much of the changes in Bossier that help our parish grow," he said. "I can look back and see the turn of the century/millennium watching Bossier City invest in our first big venture in the CenturyLink arena. From that investment to current infrastructure investments to education investments to retail investments to investing in our people…Bossier is on the grow and we have definitely earned the reputation that 'Bossier Means Business.'"
He points out the area's major industries have been oil and gas, manufacturing, medical and agriculture. But the rise of the knowledge based economy has seen diversification and increased opportunity in those same industries.
New Opportunities
"We created an avenue to slow that leakage of talent out of Louisiana by creating new opportunities for work in Bossier that were unique to our area," Rockett said.
He says a focus on top notch education, infrastructure improvements and quality of life upgrades, with emphasis on police and fire safety, have drawn residents to the area. Which in turn draws more retail opportunities.
"A community that invests in itself sends a message that it believes in its future," he said. "Growth which leads to new jobs begets opportunities for development in housing. Then, that creates the domino effect of retail to fill the voids to provide services to new families who are working in our area."
BeauxJax Crafthouse and Rougaroux Bar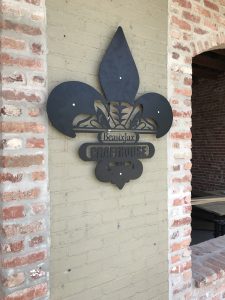 One of those new businesses providing entertainment and experiences for locals is the soon-to-open BeauxJax Crafthouse and Rougaroux Bar in Bossier City's East Bank District.
The casual dining, Cajun-themed restaurant will feature a large bar offering beer, specialty cocktails and adult shake options with live music, and indoor and patio seating. The bar is an adjoining 21-and-up game room to feature a saloon style bar, pool tables, darts and video poker.
"Our clientele is the average person who likes to go out and have a good time," said co-owner Beau Hays. "This area here is poised to be a good time — open container was a cool idea, to have a drink and go down the street to take part in an event."
BeauxJax is no stranger to the area. They have a food truck that traveled all across Bossier and Shreveport, even building clientele by taking their food truck to subdivisions in north Bossier.
"Did we want to go set up in north Bossier and pay that much rent and be inundated with all the chain restaurants there? Not really. There's never before been an area in Bossier or Shreveport that's dedicated to local businesses. I don't have to worry about competing with chains next door."
Hays and his partner/chef "Peanut" ran a small eatery on Cross Lake in Shreveport, but they believe their new spot provides a centralized location for their clientele in Bossier and the clientele across the river in Shreveport.
"The advantage for this side of the river is they've cleaned up the area, parking is free and easier, we have access to I-20, we're close to the casinos and Louisiana Boardwalk," Hays said. "If you're a tourist coming in from east Texas, you're going to the boat. And there's not a lot of places for Cajun food that is easy to find around here, so this location made sense for us."
Embracing a Brick and Mortar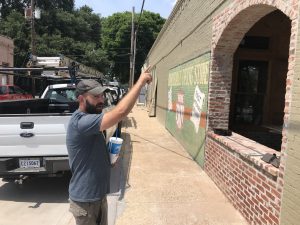 The BeauJax crew got a taste of owning a business in Bossier when they expanded to offer food exclusively to General Dynamics Information Technology (formerly CSRA) staff and clients inside the building at the National Cyber Research Park. It showed them they had an audience for their food. The vision for East Bank and the city's willingness to work with them caused the business to fully embrace a brick and mortar in Bossier.
"The city has been super patient with us," Hays said. "Even when we dropped a different project to open a restaurant in East Bank, the city would call us and help us find some other places around there. They liked what our business brought. We jumped through the same hoops as everyone else, but they've been great at guiding us through that process."
Hays looks forward to the opening of his business in Bossier.
"That's the type of place you want to be."