Nick LeBrun of Bossier City has always loved fishing. And like any outdoor enthusiast, he dreamed of the day he would turn his hobby into a professional career.
"Back in the day, I had several 8-to-5 type jobs and fished in tournaments and was making small steps in my career," explains LeBrun. "But in early 2017, I decided to just go 'all in' and be 'Nick the Fisherman' 100 percent of the time."
Today, LeBrun is among the top 50 pro anglers in the country. According to Fishing League Worldwide, out of 45 professional tournaments he competed in he has placed in the top 10 a total of 15 times and won twice. Recently, he won the BFL All American Bass Tournament. That's a pretty strong start for someone who has just turned pro in less than two years.
Taking the Plunge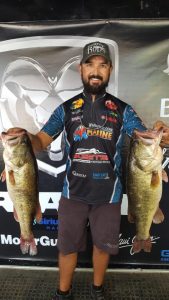 To make the transition from the "8-to-5 job" to "Nick the Fisherman," it took some creative career switching that would compliment the pursuit of professional angler.
"So I started LeBrun Outdoors, that's my little rep group, he said. "I'm a manufacturer's rep for the (fishing gear) industry."
When he's not calling on customers, LeBrun is in fishing tournaments.
"So it feels really cool to just wear one hat all the time and focus on fishing."
Professional or Hobby?
There's nothing like experience to set a person apart from being an amateur to  being a professional. For anyone contemplating setting out on a career as a pro angler, Nick offers his first-hand advice.
"It's a long-windy road and there are some steps you can take," he said. "I think the first step is just building your reputation on a local level and being respected, to always be in a positive light."
No doubt improving your skills as an angler in local tournaments is a right step also.
" Spending a lot of time on the water and just being committed to what you're doing and always never pass up on the opportunity to learn something new."
If you're more interested in fishing as a hobby and not a full-time profession but don't know where to begin, LeBrun points out a benefit to being in Bossier.
"Bossier parish is a great place to do that because we're surrounded by a lot of great, awesome lakes."
Location, Location, Location
Living in Bossier parish has played a major part in LeBrun's development as a fisherman, he credits the proximity of lakes and bayous that are all less than a few minutes drive from the city of Bossier.
"Cypress Recreation Area, Black Bayou are all really great choices that we have."
These lakes are located near Benton and are less than 30-45 minutes' drive from most of Bossier Parish. LeBrun points that while the Red River nearby is a challenge, it offers a way to sharpen fishing skills.
"If you really want to step up your game and challenge yourself, Red River is the place to do that."
With that endorsement it's no wonder that Red River has become one of the premier fishing tournament venues in the south.
" A lot of tournaments go there because it's a great platform for that competition."
So whether you're aiming for a career as a professional angler or just want to enjoy the recreational aspects of fishing as a hobby, Bossier parish has a variety of lakes, bayous and a river to offer a wide spectrum of fishing experiences. And for beginners looking to go fishing in Bossier, LeBrun has one more piece of advice: "Find a friend with a boat, that helps."
Where to Go Fishing in Bossier Parish:
Cypress Black Bayou Recreation Area
Location: 135 Cypress Park Dr, Benton, LA
Check out their website for more info.
Red River South Marina & Resort
Location: 250 Red South Marina Road
For more information, visit their website.
Lake Bistineau State Park
(The lake covers three parishes including Bossier)
Location: 103 State Park Rd, Doyline, LA
For more information, visit their website.