When it comes to outdoor activities, golf is a sport that just about anyone can do no matter what age. Bossier Parish has three splendid resources for the game all within a short drive from Bossier's city center. Of the three golf courses in Bossier City and Parish, two are part of neighborhood developments and one is on a military base. All courses are open to the public and have a variety of amenities as well.
Olde Oaks Golf Club
Nestled in a country setting, Olde Oaks gets its name from the stately oak trees that dot the landscape. Dave Martinez manages both The Golf Club at Stonebridge and Olde Oaks. He says Olde Oaks is unique and different from most courses in Louisiana.
"It's just got a lot of rolling terrain and movement that you don't see in North Louisiana," Martinez said. "And it's the only 27-hole course in the state which offers golfers lots of variety in play."
As Northwest Louisiana's premier daily fee championship
golf facility, Olde Oaks was designed in close collaboration with PGA Ryder Cup Captain Hal Sutton. The course's 27 holes wind through 340 acres of hilly terrain with oak trees, lakes and even samples of wildlife like deer roaming the nearby woods.
The practice area and chipping green at Olde Oaks is large and allows for golfers to practice on just about any type of shot they could imagine due to the size of the facility.
Olde Oaks is a short drive south along highway 71 and just off Sligo Road. It has the proud distinction as being listed on Audubon Golf Trail, a designation placing it among 15 of the most prestigious golf courses in Louisiana.
The Golf Club at Stonebridge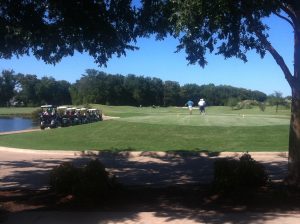 The Golf Club at Stonebridge is about a 10 minute drive from 1-49 and Airline Drive. It features an elegant and exclusive club environment where anyone can play. The 18-hole course designed by pro golfer Fred Couples and award-winning architect Gene Bates is located in the Stonebridge development in North Bossier City. The course meanders through mature oak trees, small lakes and protected wetlands. The layout offers an exciting experience for golfers of all skill levels. the scenery and variety of shot values are certain to make a round at Stonebridge a memorable one.
Martinez explains that while Stonebridge is definitely a championship course, it also facilitates all levels of skill.
"The most important thing is that Stonebridge does have a tee for everyone, so it is available for all golfers."
Another attraction is how well the course is maintained.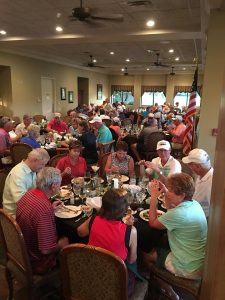 "Of course condition is what brings golfers out," Martinez explains. "The most important thing that golfers look at first is the quality of the greens because from a standpoint of playability, the putting green is the one area of the game that is the great equalizer."
When you aren't on the course, golfers and their guests can look forward to enjoying the high level amenities at Stonebridge.
"We do have a full-service restaurant. Also, we are available for outside weddings and catered parties.  We host several events throughout the year and attract patrons from a four state area."
Bomber Bayou Golf Course
Splitting the middle between Olde Oaks and Stonebridge is Bomber Bayou located on Barksdale Air Force Base.  One popular base amenity is the golf course which is open to the public with an access request form.
Bomber Bayou Golf Course features an 18-hole course, a putting green along with a driving range, a clubhouse that serves food and a pro shop.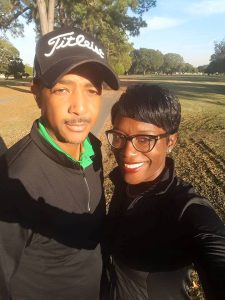 Tiny Bowman is an active duty defense attorney with the Air Force Judge Advocate General's Corps. She, along with her husband Christopher who is in the Air Force Reserve, plays a round whenever they can.
"We enjoy the Bomber Bayou golf course because of the location, course layout, price and staff."
Since Bomber Bayou Golf Course is on a military base, players need to download an access request form as some security requirements must be met. It also has its own Bomber Bayou mobile app so golfers can check for Tee Times, order food from the grille, check course distances and keep score.
Check out these great golf courses in Bossier City and Parish. You're certain to be pleased when you tee off at any of these places.
Golf Courses in Bossier City and Parish
Olde Oaks Golf Course
60 Golf Club Drive, Haughton
Contact: (318) 742-0333
For more info: www.oldeoaksgolfclub.com
The Golf Club at Stonebridge
301 Stonebridge Blvd, Bossier City
Contact: (318) 747-2004
For more info: www.gcstonebridge.com
Bomber Bayou Golf Course
Barksdale Air Force Base – West Gate Entrance
180 Bossier Road, BAFB – Bossier City
Contact: (318) 456-2263
Photos courtesy of The Golf Club at Stonebridge, Olde Oaks, Bomber Bayou Golf Course, & Tiny Bowman