2017 video of the team when they were known as the Twin City Knockers
By day Desiree Davis is a Realtor at Diamond Realty, a wife and a mother of 2 kids, but when game night comes around she becomes Dezzy, President of the Twin City Roller Derby Team. Her main position on the team is a jammer. She says there is no better feeling than when she is out on the track with her team.
"I can't really explain the feeling you get when you are beating each other up on purpose, but it definitely helps me be happy in my everyday life."
Founded in 2010, the Twin City Roller Derby Team is Shreveport-Bossier's only women's flat track roller derby team. The current team is comprised of women that vary in both age and occupation. Davis is in her second year as President of the team. She has been with Twin City for 8 years.
"I walked through the doors thinking I was going to relive my skating rink days…I just fell in love with it when I saw it on the news."
Although Davis was a speed skater, she says that doesn't really matter when it comes to roller derby. Most people think that you have to be a good skater to join the roller derby team, but Davis says that isn't true.
"Maybe 80 to 90 percent don't know how to skate," she said. "We do a fresh meat program and we have several months to get them through that. We teach them how to skate and how to give hits properly—we try to be as safe as possible even though it's a full contact sport."
Roller Derby 101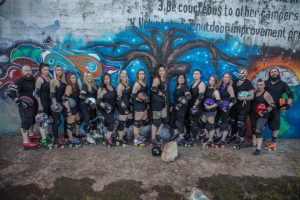 The sport can be confusing for those who haven't seen it before, but Davis says it's actually easy to catch on to. You have two jammers—they have a star on their helmet. There is one per team. They line up at the starting line. There are 3 blockers from each team plus a pivot so a total of 8 people in the pack. Once the whistle blows, the jammer is fighting to go through the pack and for each person they pass on the opposing team they will get a point. The team with the most points at the end of the game wins.
Davis enjoys being the leader of such an amazing team. She says that her team members are from all different backgrounds. Nurses, teachers and military service members are just a few of the many occupations that the players have. She says the sport is welcoming to all women.
"We don't discriminate. We don't judge. It's just an outlet for people to come to."
A few years ago, the Twin City Roller Derby Team gained 501 (c) non-profit status. They donate all of their proceeds from games to non-profit organizations of their choice.
"We have huge hearts," Davis said. "Everyone on this team loves this area and this community. It means a lot because we wanted to give back. We care about the community more than ourselves."
Everyone is welcome to their games. Davis says it is a very family-friendly environment. Their home games are now played at the Bossier Civic Center.
"We started at what used to be the skating rink on Barksdale Boulevard, so once we outgrew that which was great, we moved to the Bossier Civic Center. They've been amazing. Parking is great—we never know how many people are going to show up."
Last fall the team's hard work paid off when they graduated into the Women's Flat Track Derby Association.
"It's been in the works for several years so finally graduating this past fall was a huge deal for me."
Davis says she used to be shy, but this sport has helped her come out of her shell more. She says the team has helped her a lot.
"I am happy in my everyday life, but I know when I have bad days and it's a practice day that my team will be there for me if I need to talk about anything. Kind of like boxing—this is our way to relieve our stress and get out our aggression."
Davis says as a mom it was important for her to find something that she could do for herself. Most of the women on the team are moms, so they enjoy when their family comes out to support them.
"My husband is my number one fan. He heckles the ref when he feels like they are giving a bad call. My kids are always there rooting for me. I used to feel selfish about spending so much time at practice, but then at games I have my family there cheering for me. It's awesome."
For women who are interested in joining the team, but are too afraid, Davis has three words of advice.
"Just do it," she said. "I can't explain the feeling that it gives
you and the empowerment you get from being around so many amazing women. We will teach you everything you need to know. If you want to do it, just try it."
You can check out the Twin City Roller Derby Team in action at their next home game on June 23 at the Bossier Civic Center. They will be playing against the Acadiana Roller Girls. For more info, check out their Facebook page.
Photos Courtesy of Blazing Grace Photography and Video Courtesy of Black Helmet Films