Tuna, salmon, crab, cucumber, avocado and eel—there are all kinds of fresh ingredients that can go into a sushi roll. There is nothing quite as tasty as grabbing a sushi roll for lunch or dinner and in Bossier there are plenty of places to do this. Whether you like your sushi hand rolled, fried or baked, you are bound to love the many options available at these restaurants. Here are 7 of the best places to eat in Bossier for sushi lovers:
1. Kabuki Sushi & Roll
If you're looking for a variety of both sushi and Korean food, then Kabuki is the place for you. This eatery has a menu with all your classic Korean favorites like Bulgogi, Hot Pot and Galbi (beef short ribs) along with a lot of sushi rolls to choose from. They also have bubble tea if you need to cool off after trying something extra spicy.
When I went to Kabuki, I tried the baked salmon roll. It is a roll filled with crab meat, avocado and cream cheese topped with salmon then baked. The roll was the perfect amount of salty and creamy plus the salmon was flaky and fresh. Overall, the prices were reasonable, and the food was plentiful.
Location: 2119 Airline Dr.
2. Taste of China
Located along Barksdale Boulevard, Taste of China is a quaint restaurant packing fresh flavors. They have a full menu of sushi rolls along with a full menu of authentic Chinese dishes. You'll find classics like beef broccoli, Happy Family and sesame chicken on the list of items in addition to the fresh sushi rolls. The lo mein here is some of the best I've ever had. It has just the right amount of garlic in it.
I also tried the salmon roll, crazy boy roll and the Boston roll during my trip to Taste of China. All of these rolls were absolutely delicious. You can tell that care went into each one that was hand rolled by the sushi chef.
This family owned restaurant has a friendly atmosphere and is the perfect place to stop by if you and the fam are looking for a new spot to check out.
Location: 4970 Barksdale Blvd
3. Sushiko
Located at the Louisiana Boardwalk, Sushiko is the perfect place to stop for sushi if you are spending the day shopping with friends or family. Whether you sit at the sushi bar or grab a table, this restaurant has a serene ambiance that is great for taking time out of your day to enjoy a delicious roll. One of my favorite rolls here is the, "Crazy Boy Roll." It is filled with crab, cream cheese and avocado then it is tempura battered and fried. The roll is topped off with spicy mayo.
If you are looking for other options, Sushiko has delicious bento boxes perfect for either lunch of dinner. The restaurant has Japanese-style hibachi that usually consists of perfectly grilled chicken or steak. You are sure to find something that pleases your taste buds.
Location: 650 Boardwalk Blvd (Louisiana Boardwalk)
4. Sushi Gen
You know when sushi is in the name of the restaurant, then you are in good hands. The chefs at Sushi Gen have created a menu with a wide variety of rolls. Sushi Gen has one location in Shreveport and one in Bossier. They have Japanese cuisine in addition to their array of sushi options. For those that want more protein in their sushi roll, I'd recommend the beef tataki roll. It consists of fried shrimp, avocado and cream cheese. Then, it is topped with seared beef and drizzled with eel sauce. They also have bento box specials if you want a mixture of sushi and hibachi.
Location: 2300 Airline Dr
5. California Roll & Sushi
Sometimes on a busy work day, you just have to stop by your favorite restaurant for a roll of sushi. I love popping into California Roll on those days when I just need to get my sushi fix. I usually don't even have to open a menu when I arrive at the restaurant. I know that I want the beef fried rice paired along with their classic California roll.
This sushi spot makes their signature roll a little bit differently from other places. They use a crab mix in their California roll that is accompanied by crisp cucumber and avocado. There are a lot of other sushi places that use the crab stick whole instead of chopping it up into a salad within the roll. It is just one of those little things that makes their California roll one of my favorites. They also roll theirs in sesame seeds and drizzle a honey mayo sauce on top. It is incredibly tasty!
Location: 2723 Beene Blvd
6. Ichigo Sushi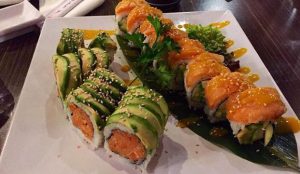 One of the hidden gems of the sushi world in Bossier is Ichigo Sushi. It is a small restaurant, but the menu is full of big bold flavors. Ichigo Sushi is the sushi portion of another restaurant called Lin's Kitchen. This is another great spot that pairs authentic Chinese cuisine with a variety of sushi rolls to choose from. Honestly, I've never ordered anything at Ichigo Sushi that I didn't like. I've gotten everything from the happy family to the tuna special roll.
The tuna special roll is one of my favorites. It is a fried roll that is filled with spicy tuna, cream cheese and avocado. It is topped with a spicy crab salad, caviar and a sweet and spicy sauce.
Location: 2091 Stockwell Rd #15
7. Shogun of Japan

There are plenty of things that can go with sushi and hibachi is definitely one of them. One of the tastiest meals I've ever had in Bossier consisted of steak hibachi and a sushi roll from Shogun. This place happens to be very close to my office, and I often find myself here on my lunch break. The restaurant gives you the option to either sit at a hibachi table (where they cook in front of you) or a regular table. You can still order the hibachi even if you don't get the show that comes with the hibachi table.
Sushi chef Terre Saimon says their most popular roll is "Rock & Roll" it consists of fried shrimp, avocado, cream cheese and it is topped with shredded crab meat, spicy mayo and eel sauce. On my most recent lunch trip, I tried the roll and I can see why it is a crowd pleaser. I've also had the Teppanyaki Steak lunch special with steak, vegetables and fried rice. The meat is cooked until tender and the rice is perfectly seasoned.
Terre's dad, "Big" John Saimon is also a sushi chef at Shogun. He has worked there since it first opened almost 12 years ago. He was the one that taught Terre how to make sushi.
"Making sushi is like making art," Terre said. "I love watching customers eat the sushi that I create."
In the video above, Chef John makes a "Grinch roll." The roll has crab stick and tempura shrimp, then it is topped with avocado and drizzled with eel sauce and tempura crunchies.
So if you're looking for both great hibachi and sushi, then Shogun is one of the best places to eat in Bossier.
Location: 3150 E Texas St