Bossier is known for having a growing, innovative business community. But it's the
people who make all the various industries and businesses a success. One of those
people is a south Louisiana native who took a chance on a new career and a new town
and it's been a success beyond his wildest dreams.
Kary Landry is a State Farm agent located on Old Minden Road in Bossier City. A south
Bossier resident and father of two, Kary is a BPCC Foundation Board member,
president of a local BNI group and Military Affairs Council member. He is also involved
with his church Mary, Queen of Peace Catholic Church and leader in ACTS Retreats
and the parish finance council.
His hobbies include watching basketball and football, being a self-admitted "ugly" golfer,
novice fisherman and hunter. But his favorite pastime is spending time with his wife,
Tina, and girls — Kourtney, a sophomore in college, and Karleigh, a sophomore at
Parkway High School.
Let's find out how the south Louisiana native ended up in Bossier and why he's stayed
for the past 15 years.
1. In your own words, what do you do?
I meet with people on a daily basis and look at their situation and help them to manage
the every day risk we all face. And when something bad goes wrong, we want to be
there to help them recover. We can also help them look into the crystal ball a little bit
and help them realize some of their dreams.
2. What made you want to do this — helping people?
I was a school teacher before I joined the State Farm family, and I really enjoyed
helping the young folks and being involved with their families. When I left that career, I
did a lot of thinking and praying about making that transition to something different, and
when I ended up at State Farm, I noticed that same spirit of helping folks. It was a
natural fit with what I was doing before.
3. What about State Farm sets them apart? What made you choose State Farm?
I think more than anything is the culture. It always puts the needs of everybody else, customers and employees, first. When I first started, I felt like the leadership really cared about what was important to me, and we've always been a customer centric company.
4. Speaking of culture, what's the culture here in your office?
When we bring a new person to join our team, it's a joint effort. We all interview that
person and make sure they fit our chemistry. We spend 8 to 9 hours per day with each
other, so we've got to like who we spend our time with. One of the things we believe in
is 100 percent honesty. When we approach each other about an issue, we all know that
we're going to be honest and open, and I have found that when you do that, a little
problem doesn't become a big problem. I want my team to be happy and have passion
for what we do, because if they're happy then they'll do a better job helping the people
we serve.
5. What is your favorite part of the job?
When you have a young couple and you help them put a plan together and you see that
plan unfold, that's extremely rewarding. Now, when I can get my team to have that
same conversation with somebody and achieve that, I get a lot of energy from that.
6. What about this job is different than any other job you ever had before?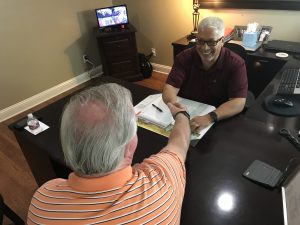 It's the most challenging career I've ever had. I had led people before, I was in the Army Reserve for a good number of years, but this is a career that tests every part of my abilities. From human resources and leadership to communication and time management, I learned I can't be great at all of them and I really had to refine my thought process when it comes to motivating people. So I'm learning how to find strength in other people. It's kind of like being a band conductor who's putting all the pieces together to make it sound good, that's kinda what this career offers me that none of my other careers did.
7. What do you like about Bossier's business environment?
When we moved here 15 years ago, we didn't know anyone, we had never been to
Shreveport-Bossier. One of the most important things to my wife and I was finding a
good place to raise our family — great schools, great neighborhoods, safety. So we
visited one weekend and went to the Pierre Bossier Mall to get the vibe and meet
people. When we found the same environment we were used to in south Louisiana,
where everyone is friendly and knows everyone, we knew we had made the right
decision.
My first business interaction with anyone was when I went to the Bossier Chamber and I
ended up making friends that I'm still friends with today. The Bossier City government
made it easy, they helped walk me through the whole process. When I first got here I
got to meet former Mayor George Dement and current Mayor Lo Walker and that's a
relationship that's still going.
Looking for more people that are lovin' their job in Bossier? Check out last month's blog on Kelly Wheeler at Camp Gladiator.