Roger Johnson and his wife Linda are the proud owners of the Food Shack in Bossier. This location opened in March of 2018. It's the second location for his Cajun and barbecue restaurant, but the first public restaurant. His first location is privately located inside Teleperformance, the call center in Southwest Shreveport, exclusively for its employees. Johnson has been in the food industry for 10 years and he also has a Steel business called North Shreve Steel which he's owned for over 30 years.
To say he's a successful businessman would be an understatement.
"My steel company built the steel for the Louisiana Boardwalk and I met an individual there who wanted to open a restaurant and I became a partner in that," Johnson said. "It ended up not going very well, but it got my foot in the door in the food business and I ended up buying him out and continuing the Food Shack inside Teleperformance."
Johnson is a long time native of Bossier and felt led to spread his delicious menu where he will always call home.
"I grew up in Benton and I just really wanted to open something up here. I thought the location was great, too, because it is right in front of a red light. I really wanted to try another restaurant, but public this time."
Social Media Following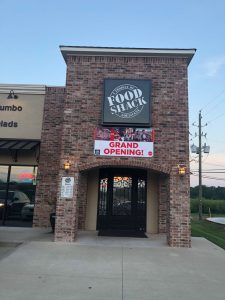 Food Shack might be new to the area, but it has already picked up a large following on social media gaining a lot of attention. Josh Woodard, the Operations Manager at Food Shack, thinks it's a great outlet to use to promote the restaurant and what it has to offer.
"We use it to interact with our followers and make sure we post about any promotions or events coming up. It was a great way for us to roll out our lunch menu. We had a great response from that," said Woodard. "We make sure to have our settings configured to reach our followers and their friends, so it reaches more people and makes it easy to communicate. It's a lot more effective than shooting out an email blast or sending mail because you never know who's checking their email or who throws those mail pieces away."
The Johnson's are very involved in their church and make sure that their Christian lifestyle and values are reflected in their business.
"I want people to know that this is a Christian atmosphere and we are very vocal about that. I think it's important for businesses to be an example, that you can be successful and be a Christian business," said Johnson. "It's very family oriented and we offer a kid's menu, so we want to make sure that children have things that they can eat, too. I want this to be a safe environment for kids to work at."
Most of Johnson's employees are made up of high schoolers including his grandson. Giving them a job and a fun, safe place to work is very important to him. He makes sure to work around school schedules, family functions, vacations, and any other extra-curricular activity that his employees have going on. Each employee is cross trained in the different areas, so everyone can say they are qualified to meet every need of the restaurant.
Food Shack offers different specials throughout the week. Mondays are Military Monday, but first responders are also included in this promotion. Anyone with a valid military ID or first responders will receive 10-percent off their meal. On Tuesdays, kids eat for 99-cents. Wednesday is Wellness
Wednesday for medical field employees to also receive 10-percent off their meal. Earlier this month, they offered 10-percent of all sales through the week of September 10-15 that they donated to the Bossier Parish Chapters of the Fellowship of Christian Athletes. The team has some more promotions in the works that will be available soon.
The Menu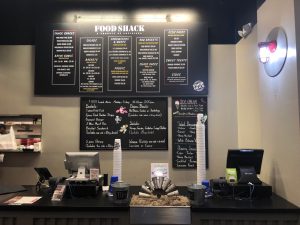 The top sellers off the menu are the catfish, salads, the shack shake, and Johnson personally enjoys the onion rings.  Johnson's head chef is sure to prepare everything from scratch and she incorporates her family recipes into the barbecue sauce and potato salad.
She also acts as quality control making sure all the other cooks are accurate with her recipes and ingredients. Food Shack uses a 500-pound smoker for all its meats and honors those health-conscious customers by offering salads, grilled catfish and chicken, and wraps. There's a little bit for everyone at Food Shack.
Food Shack paired up with their neighbor Airline Drug and held a joint ribbon cutting on Sept. 21. They offered goodies for people of all ages and everyone who visited had a great time.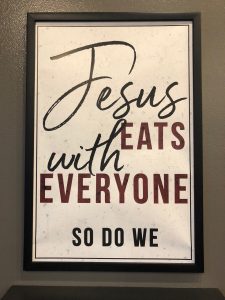 Be sure to take advantage of all the great specials Food Shack offers and enjoy some fresh Cajun cooking with your friends and family. Johnson has made sure to put his heart and soul into this restaurant and wants to share it with all of those here in Bossier City.
Address: 4200 Airline Drive
Hours: Monday-Thursday 10:30 a.m to 9 p.m
Friday & Saturday 10:30 a.m to 10 p.m.
Closed Sundays