It's no surprise that Bossier is a thriving place for businesses and bringing great career
opportunities for its residents to the area. Stephanie Ringgold, a Bossier resident and the Business Development Center Manager at Orr Nissan, has always been about contributing to the team. She is a mother of two and a grandmother of three, a Medical Assistant, a former women's league pool player, and spends her days at work constantly talking to customers and working closely with her coworkers bringing success to Orr Nissan every day. Let's learn more about Stephanie and why she loves her job in Bossier. 
1. What made you want to seek a career at Orr Nissan in Bossier?
It was the opportunity to work with people and this job is always evolving. I like to see people
happy and smiling because you were able to help them.
2. Why do you love working in Bossier?
I have worked in several different positions here at Nissan, so for me I feel like this is my personal business, as well. I want to see us all succeed as a team. We are a family here from service to sales and we all work together! At times we may fuss at each other, but we also will
take up for each other just like in any family.
3. What does Orr Nissan do for its employees that sets them apart from other jobs you have had?
The simple fact that they give a vehicle away to an employee each year at our Christmas Party
has always impressed me, and that our owner takes a personal interest in us behind the scenes.
4. Describe a time where you did something for a customer that made you love your job.
I was working with a couple that was recently out of bankruptcy and truly needed a vehicle.
They had lost all hope about getting another vehicle. I asked them to come in and see me to see
what we could do and I would cover their gas for them. Miss Lisa left with her first new car ever
and it was the best feeling to know that I was able to help with that.
5. Where do you see your career with Orr Nissan going in the next five years?
I am really happy in my current position with Nissan. I enjoy getting to be someone's shopper
and assist in helping them. But we will definitely see what happens!
6. What do you want the community to know about working for Orr Nissan in Bossier?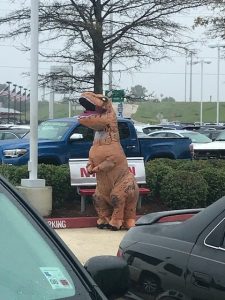 Orr Nissan in Bossier is a great company. I understand that everyone may have an idea about a car dealership and I am sure that everyone has had a good or bad experience, but I truly love what I do. I get to help the customer get important information on vehicles before they even arrive here at the dealership. I am here to help!
When Stephanie is not hard at work bringing success to Orr Nissan in Bossier, she likes to relax by reading the Harry Potter novels.
Stop by Orr Nissan in Bossier to meet with Stephanie to discuss all your vehicle needs. It is employees like Stephanie that keep Bossier and its many businesses prospering.