If you take a trip to the Louisiana Boardwalk Outlets after dark this time of year, along with shoppers, movie goers and teens enjoying ice cream from Coldstone, you might find a bloody masked axe murder wandering around under the Texas Street Bridge.
No, it's not some slasher movie come to life, it's the full experience offered by Bossier's hottest Halloween haunt — NecroManor Haunted House.
The haunted house is keeping alive its yearly tradition of giving locals their fall fix of scares and thrills. While the creators and actors behind NecroManor were coy on what exactly attendees will see and experience, in the spirit of keeping all the scares a surprise, they warned their second year at the Boardwalk would see them upping their game.
Actor Mike Stevens, who plays the character Ikarus, says visitors to the maze-like haunted house will get scares, thrills and even some spills.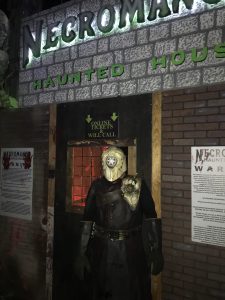 "I swear we have it all — if you want weird mutated creatures, you've got them. If you want sociopath scientists, boy I tell you we've got them as well. If you want weird, freakish people who work here, you'll get that too."
Fellow actor James Marks welcomes everyone to the attraction and said everyone who enters can expect wonder, fear and chattering of teeth.
"It's normal, every day emotions cranked up to 10," he said.
More Scares This Year
Madison Cobb is department manger for NecroManor Haunted House, which means she is in charge of overseeing the makeup and costumes. She summed up the haunt as a horrifying experience…in the best way possible.
"It's mean to be entertaining, but it's a lot scarier than we have been the past couple of years."
However, Stevens said that if you're scared of being scared, there's still room for you at the haunt.
"We try to cater to all ages. If they don't want to be too scared, come before 10 p.m. After 10 p.m., on a scale of 0 to 10, we're definitely at the higher end. But if they want to test their mettle, by all means, we accept all kinds."
Owner Douglass Cobb says The Boardwalk is great and makes them feel at home while they're there. He added that running a haunt in Bossier is pretty much like running a haunt anywhere else — it's a labor of love.
Haunting is in Cobb's blood. He has been scaring people for over 27 years and works year-round on improving.
"Scaring people is very therapeutic it's a good way to get rid of the frustration of the day," he said. "I don't really have an off season. I work year round on new stuff for the haunt."
That means a lot of time away from his family during setup, and a lot of time away from his bed.
A Labor of Love
"I only get around 5 hours of sleep a night during setup. You got to love it," he said.
Raven Yarbrough, lead makeup artist, proved Cobb right after adding she was up at the haunted house until midnight before it opened and ended up working on things at home and then came back to work another 12 hours to create looks for the characters.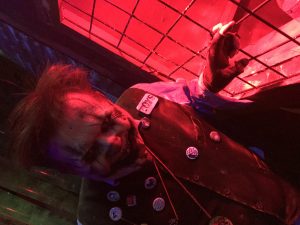 "I put everything I have into each individual makeup look," Yarbrough said. "I converse with actors what they think their characters would look like because they know better than I do what the look would be since they've developed their characters."
But behind the gory masks and creepy characters, there's a real heart for the haunted house and all the people involved with it.
Cobb said he didn't want to take over NecroManor, but felt compelled to after the tragic loss of the previous owners' son.
Honoring Their Son's Memory
"The previous owners had just lost their son, the major driving force behind NecroManor. Rather than let it fade out, they approached me to see if I wanted to pick up where they left off. And the rest is history."
That sense of family has continued on down to this year where the actors, makeup artists, prop makers, and staff involved feel like they belong in this world of crazy scientists and cannibals.
Actor Connor Denned described his fellow cast as family.
"It's a bit of a crazy, little gang of…crazies."
Though Stevens spoke through his mask, fully in character, his words had a deeper meaning.
"This is my home. I've worked them and they've guided me from the very beginning."
Marks was also in character when he said frightening people for money, instead of for free, was something he couldn't pass up.
"They found me sleeping under a bridge one night and said, 'That's a strange looking individual. Would like to come scare people for a living?' And I said, 'I've been waiting for that for years.'"
So, what makes a sane person want to get dressed up like a zombie and cause their fellow people scream in terror?
Marks answered pretty simply, "That's assuming I'm a sane person."
"I like it because it's a chance to improv theater in its most basic and primal form. People can pretend to laugh, people can pretend to cry, but fear is a real thing. You don't scare people by mistake and you know when you've had that impact on them," he explained.
If you're brave enough, take a break from the comforts of the real world and step into a world that is, on second thought, pretty much a slasher movie come to life after all.
"We are one of the hardest working haunts around and we will scare you," Cobb promised.