Bossier is home to a growing base of millennials who want the best for the community they live and work in. So let's meet one of those people who make up the next generation of leaders.
This month's Millennial Pro is Karen Wissing. She is Sr. Communications Consultant for AEP Southwestern Electric Power Company (SWEPCO).
The 30-year-old resident of south Bossier is a 2010 graduate of LSU-Shreveport and is currently pursing her MBA.
Her hobbies include playing indoor soccer, singing for local band The Good News, spending time with her dog Coco, and traveling with her boyfriend, Brian.
1. How did you get involved in public relations?
My career in public relations began straight out of college at Sci-Port: Louisiana's Science Center (now Sci-Port Discovery Center). I had completed an internship within Sci-Port's PR & Marketing Department and I was fortunate to secure a job at the nonprofit after graduation. There was a learning curve; while public relations and marketing involve journalism, there were skills I needed to learn for me to do my job well. My boss at the time encouraged me to collaborate with two colleagues and create the Public Relations Association of Louisiana Northwest Chapter in 2011. She also suggested I join Toastmasters International for public speaking and leadership development. Both of these organizations have given me ample opportunity to grow as a professional through networking and continued education.
2. Why did you want to do this for a living?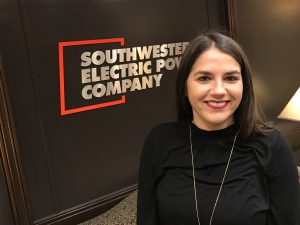 From as early as I remember, I've enjoyed both talking to and helping people. Working in communications allows me to do both of these things. Specifically for public relations, I'm helping communicate the message of SWEPCO to the media and the public. I also communicate and help customers directly through social media; I like being able to understand a problem a customer has and working with him or her to fix it.
3. You've been very involved in the community for a while now, why do you care so deeply about this area?
I care about the area, because it's where I live, work, and play. I recognize the talent within our area, and I wish I could be 43 places at once. I also do my best to support local initiatives and businesses, because I understand that's how a local economy thrives. Between both sides of the river, there's always something to do, and I believe that puts us in a unique position as a twin-city community.
4. Do you feel it is up to us, the next generation workforce called millennials, to support this area and how can we do that?
Something about millennials that I like is how vocal we are when it comes to advocating for something we care about. I think that might be the role millennials have for our time, and I think there will be changes coming because of it.
5. What are your goals for the future, or what do you hope to accomplish in the future?
My six-month goal from today is to graduate from LSUS with an MBA. My six-year goal is to be in a position where I am putting my skills to use helping people in some way and am happy. As cliché as that may sound, being happy with where I am in my career at any point in time is the goal. I never intend to stop learning, either.
6. I know you are a Shreveport native and crossing the river to live wasn't really on your radar, but how did you end up living in Bossier? What made you want to stay or why do you think you stayed?
That's absolutely correct – crossing the river was never on my radar! However, I was having trouble finding a home to buy in Shreveport. By chance, a friend mentioned his landlord putting his south Bossier house up for sale. I looked at the house that afternoon and made an offer; it was the perfect size and price for me. Plus, it's in a quiet location that is just enough far away as it is near everything I need to get to within 15 minutes.
7. What is your favorite thing about Bossier?
I love the location of where I live, and the lack of crime is a plus. I also like seeing a city grow more and more each day.
8. Where do you like to hang out (in Bossier) & why?
Let's talk food first: I love going to local spots, like BeauxJax Crafthouse, L'Italiano and Flying Heart Brewery. I love exploring the Red River Wildlife Refuge. It offers a chance to get away from the hustle and bustle of life. We also love going to Walker Place Park to walk or run.
9. Is there something you'd like to see Bossier have in the future that it doesn't have now?
I would love to see Bossier City have a dog park.
10. If you could tell people one thing about Bossier, what would that be?
I'd tell people, including my past-self, that you can't have Bossier City without Shreveport and vice versa. Both cities have something to offer residents of either side of the Red River. We should work together as cities, and I think that starts from the bottom up rather than from the top down.