Although summer never really ends in Louisiana, it fades enough to where we see the trees change colors, the weather gets a little cooler and the days get shorter. Fall is synonymous with harvesting, family and change. And that doesn't just mean the colors of leaves. It extends all the way to clothing, home decor and outside decor. So what fall trends are "in" throughout Bossier?
Clothing Trends
Caleigh Phipps, of Simply Chic Boutique in Bossier City, says the major clothing trends for fall are animal print, chenille sweaters, flared pants and leather Spanx.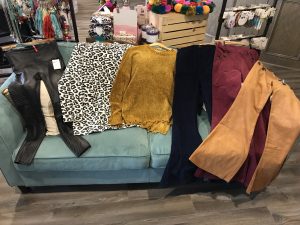 "Animal print is really big, leopard is really popular," she said. "We have jackets that are thick, can keep you warm, but they're not just a heavy duty jacket, you can wear them outside in the cold or at work behind a desk. You can wear them casually or for formal."
Chenille sweaters are also a popular option among customers in Bossier.
"A chenille sweater is super soft and it goes with everything — it's good for a different look at a cold LSU night game. They go well with both leggings and jeans. White and the darker browns are the most popular colors.
Corduroy and denim flared pants are really popular. The top colors are navy, wine, camel brown. They're great for a night out or something as casual as a birthday party. You can get a pair of black denim and dress them up, or wear the corduroy in a casual setting."
Another popular option is Spanx black leather leggings.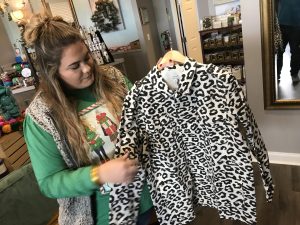 "Spanx black leather leggings go good with everything, either to dress up or dress down. They are for sale in our store and have been really popular here."
She added that as far as accessories it's wrap necklaces and multi-colored necklaces.
"Wrap necklaces are super easy to wear and can go with just about anything. Also, multi-color necklaces with multi-colored beads are styles that everyone is raving about."
Outdoor Trends
The cooler days of fall are perfect for getting outside. It's a season renowned for harvesting, so celebrating the gifts of the garden is only in the spirit of the season.
Ron Tapley, gardening department manager at Ellis Home and Garden,
noted fall is a great time of year to change up the outdoor look of your home and refresh before winter hits.
"It's a good time to change things up by adding pumpkins and mums, and refreshing before winter. Pumpkins are really popular. There's a bunch of different colors. Everything from white to orange, and all shapes and sizes."
He says now that its the end of mum season, customers will be planting pansies, snap dragons, cabbage and kale because they will grow all winter long. He also says you can use straw as a base with those plants and pumpkins for a display.
"Christmas will be here soon. It's not quite time for Christmas trees, but there are some little cedar trees for decoration and they make your house smell good. Live Christmas trees will start arriving soon for sale. Christmas really takes off the week after Thanksgiving, that's when it starts getting busy."
Home Decor Trends
Fall is a time for the holidays, which means visitors. So now is the season to make some changes in your home's interior.
Brandi Shockley, owner of Ivy & Stone in Bossier City, said many of the trends are based around the Holidays.
"Everyone is getting ready for the Holidays. So if you're that family that gets together for Thanksgiving and gathers around the table, a lot of people are coming in to get that table set up and ready. That means it's place settings, centerpieces, little things for console tables. It's a big season to get together in the kitchen, so people are wanting stuff to style their islands with. Color wise for fall, it's those bright oranges have faded Into the background, a lot of people are going for muted colors. It's a lot of pomegranates, pares, acorns, and wheat grass. A lot of the neutral tones of fall."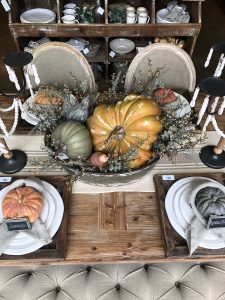 She said that a lot of locals are already coming in to get their home ready for Christmas.
"A lot of people already have their tree up. The trends we're seeing for Christmas is still very much the classic Christmas, but we're seeing woodsy style, that means things like plaids. And there's a lot of glam. So a lot of rose colored pinks, blush tones, gold tones, champagnes, glitter and snow."
Another really popular item in the store are the scented candles.
"I think having candles in your home throughout the Holidays makes that environment of your home more welcoming and cozy. So depending on what you're doing or hosting, that scent just gets you in that mood and spirit to decorate and have people over."