The holidays are swiftly approaching. With Thanksgiving Thursday there comes
exciting shopping adventures. Adventures with crowds of people, or from the quiet
of your own cozy home. As I am sure you are all aware, Black Friday is Friday, Small
Business Saturday follows, and Cyber Monday is … you can probably guess. All of
these encourage people to take advantage of fantastic sales but not without a little
bit of effort. The busiest beast to tackle is Black Friday. Lucky for you, it is first on
the list and can even begin once your belly is full of that delicious Thanksgiving
meal.
If you're thinking of navigating Bossier traffic to shop this Friday, congratulations,
you'll be taking on a huge feat. But, with each challenge is a great reward. You can
find toys for kids, tools for dad, or even a little something for yourself. All of which
will be on sale and purchased early enough to wrap them and put them under your
tree. *High five*
What time to shop:
Up first, when scheduling out your Black Friday adventure, you need to plan what
time you want to begin. Some places like Walmart, Target, and Sears begin their
deals on Thanksgiving Day. If you don't plan to be occupied by pie and Turkey, you
might consider going and getting ahead of the crowds. Other stores will be opened
around midnight or early hours of Friday. But if you've got something specific in
mind, maybe don't hold off.
"I would suggest going as soon as the stores open and have their doorbuster. I
usually look at all the ads leading up until the day and map out where they are, what
time they open, and what items I need badly," Krista Madjerick Black Friday
aficionado said. "Also, a good time to go back to places like Walmart and target is late
around midnight when the crowds have died down significantly. "
Where to shop: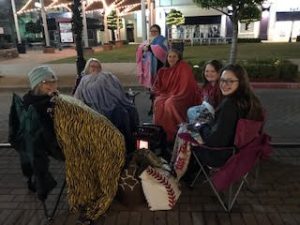 Where you shop is entirely up to what you're looking for. It is encouraged that you plan that out and also plan exactly what you intend to buy. Once you have that planned, your time in the store will be used as effectively as possible.
Check the ads in the paper, or do like Black Friday pro, Mallory Semanco does and download an app.
"My favorite every year is 'TGI Black Friday.' I like it because you
can choose a store, like Target, then shop by categories like, toys, kitchen, apparel
and add specific items to your list," Semanco said. "So if I chose toddler PJs, Crock-
Pot, and boots from Target. It saves to a 'Target list.' So on that day I click on Target
and can see all the deals I liked and saved for the store I'm in. I also like to do that to
compare prices at other stores."
This same app will also alert users when new Black Friday ads have been posted,
making it essential to your Black Friday journey.
Tackling Traffic:
With Black Friday, comes Black Friday traffic. Airline and Benton are central routes
of travel, which means, you guessed it- traffic. Take advantage of interstates and
back roads if you can. When the time comes and you're approaching your
destination, remember others will also be on the same exact mission as you. It is
important to drive friendly and cautiously. Spread some Christmas cheer. *Wink*
Tips from the Pros:
Now, if this is your first Black Friday to venture out or your tenth, we can all learn
from others. These two ladies are Black Friday Pros and they are letting you in on
some of their best tips and tricks so you can tackle Black Friday and that comes with
it.
Mallory "Never Met a Black Friday I didn't Conquer" Semanco
1. Know the difference between a good deal and good marketing. Some things
will be advertised as a "Black Friday Steal" but in reality, it isn't a great deal.
Don't waste time in line for a small payoff.
2. Scout out stores that have great customer service. Most stores only have very
small amounts of "hot ticket" items. We were in line for a TV once and when
the employee went down the line they announced that anyone past a certain
spot in line was not promised the TV. This was so helpful! We were able to go
to another store and not waste our time.
3. Go with someone! Divide and conquer. One person finds a parking spot while
the other runs inside and spots the items you're looking for. One person can
wait in line while you try on clothes, etc. Someone can go grab food while you
check out. And besides getting stuff done much quicker it's always more fun
with a buddy!
Krista "Whatever You Just Came for I Just Bought the Last One" Madjerick
1. Bring a small purse. Compile your debt/credit cards and cash in a small wallet and possibly use a cross body purse. That way, its close to your body and you don't have to worry so much with crowds.
2. Go with a group of people. Sometimes you need many things at 1 store and if you divide, you can conquer!
3. If there is one thing you are after for example, 55in 4K smart TV, check all the
places for that tv and brand. One place that you don't usually shop at may
have it cheaper.
All in all, Black Friday can be a challenge, but with these helpful tools and tips in
your belt, you can slay Black Friday! Best of luck, and happy shopping!!