Several years ago, Lesley Duke started a photo booth franchised business. It allowed her to stay home, home-school her children and earn a little extra income. It was a good way to learn about being in business, but she quickly realized that she wanted something that was her own, something that was her idea and something for which she was passionate. Lesley's faith led her to pray for a vision and an idea, and soon the ideas started pouring in.
How It All Started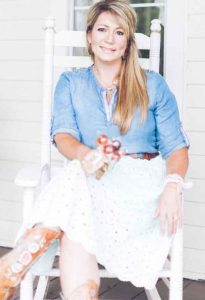 Lesley was the kitchen cook at her Wednesday night church suppers. On a typical Wednesday, she would make about 12 gallons of sweet tea each week. One evening, as she was making the sweet tea, she began to wonder whether anyone had ever tried to make sweet tea flavored candy. She says she didn't want to be one of those people who asked for an idea and then didn't follow through when she got one.
So she decided to give it a try and that's when Southern Sweet Tea Pops began. Lesley found a recipe online for hard candy, substituting water and flavoring with sweet tea and the results were spectacular. Her sons were going to be the first to taste the candy, but the early batches were not visually appealing. Lesley says they looked terrible and she told them to just taste them anyway. Their response was "Mom, these are so good! It tastes like sweet tea" and she knew that she was on to something.
Her next step was to try to make the candy look better. She wanted something that looked good and would be something that she would like to buy and give as a gift. The lollipop idea came quickly. She decided on a larger than normal lollipop and thought it would be fun to add a sweet tea jar tag with a southern saying that would make a memorable gift experience.
Lesley began product testing by becoming a vendor at the Haughton Farmers Market. She didn't know what to expect, and was surprised when she sold out the first time she attended. She began getting phone calls from people wanting the pops and requests for wedding favors. She set up an Etsy store, developed a website and her Southern Sweet Tea Pop business was flowing.
Lesley originally made the products at home and once she started growing and wholesaling, a partnership with a candy factory in Oil City was necessary to help meet the demands. She is committed to making a fresh Louisiana made product. She wants to make sure that customers are getting the freshest products possible, so she bases her production on seasonal needs. Over the Christmas holidays, she made approximately 10,000 pops.
Lesley loves being based in her hometown Bossier Parish, and particularly Haughton. The support that she has received has been phenomenal and she came to realize how important it is to support local business, as well as locally made products. Starting this business has opened her eyes to her responsibility in helping other local businesses and the community.
Southern Sweet Tea Pops has been able to partner with Purchased: Not for Sale to package, label and distribute the pops. Purchased: Not for Sale, a mission of The Hub Urban Ministries, exists to provide rescue, relationship, resources and recovery to women in the sex industry and victims of sex trafficking. She believes it is a super way to be a resource in the rehabilitation of incredible women who are trying to turn their life around.
As her business progresses, Lesley is expanding her product line. She started thinking about other things that could be made with sweet tea. Her next product was Sweet Tea Syrup, which tastes wonderful over pancakes or French toast. Coming soon is Sweet Tea Jelly and Sweet Tea Meat Marinade.
If you are a sucker for sweet tea, you're going to love these Southern Sweet Tea Pop products.
Southern Sweet Tea Pop Products can be found in the following locations:
Tubbs Hardware & Cajun Gifts – 615 Benton Road, Bossier City, LA
Rosewood Home Market – 2850 Douglas Dr, Bossier City, LA
Delish – 3240 Line Ave, Shreveport, LA
Yardbird Table and Market – 1216 I-20 E, Waskom, TX
Huck Finn's Catfish – 3330 Parkway, Pigeon Forge, TN
Oak Alley Plantation – 3645 LA-18, Vacherie, LA