Bossier is home to a growing population of millennial pros who are making a name for themselves by bettering the community. One of those is Katrina Sproles.
Being a part of higher education with Bossier Parish Community College, she loves seeing how lives are transformed and how people invest in their futures, families and community. Katrina is the Administrative Assistant IV for Academic Affairs at BPCC.
She notes that it is up to her generation, millennials, to support this area by equipping the generation behind them with job skills so the future workforce has the knowledge and skills to work with the resources Bossier has and choose to remain in the area to start careers and raise families.
"Many who have fought for Bossier, from development to expansion projects, have only planted seeds — seeds that will continue to need nourishment from our next generation workforce. It is important that we are equipping our future workforce with job skills and readiness to continue the harvest planted long before us," Katrina said.
But let's find out more about her…
1. How did you start working with Bossier Parish Community College and why?
BPCC has always been "home" for me for a very long time thanks to some very special people who worked for BPCC. I graduated from BPCC in 2006 in broadcast journalism and, with the help of some amazing mentors, landed my first job with Channel 6 KTAL. After years in the news and advertising industry, concentrating on my family became more important to me. I started at BPCC 7 years ago in Public Relations helping tell the stories of our great students and amazing faculty.
2. What made you want to get involved in higher education?
Being a part of watching someone grow and accomplish their goals is very rewarding. One of my favorite days of the year is on graduation day where you get to experience a graduate and their families' goals accomplished and dreams come true. The hardest of days when fighting for higher education opportunities and funding is always so worth it when you see the crowd of family members gathered together under one roof to celebrate with tears, smiles and cheers.
3. What are your goals for the future?
I want to finish my Masters of Arts in Counseling and Guidance from Louisiana Tech. I started work on this degree a few years ago and then took a break for my two sons. In the fall, I am excited to get back to business and finish my degree, attending classes at Louisiana Tech's new Academic Success Center in Bossier City.
4. What nonprofits, volunteer efforts are you involved with and why?
Along with my career, my faith is something so important to me, so investing in our youth and making disciples is something I take great pride in. I spend my Sunday mornings and Wednesday evenings studying God's word with my "Life group" of 11th grade girls from Haughton High School and local home schools at Eastwood Baptist Church. My time does not just stop on Wednesday and Sunday mornings, as me and my partner, Kelly Barron, have followed these girls from 7th grade, and have mentored and poured our hearts into these girls with late night phone conversations and texts, outings to eat, and weekend long discipleship studies.
In addition to being a mentor at Eastwood Baptist Church, my daughter is a little Ballerina playing minor cast roles with Shreveport Metropolitan Ballet. I often volunteer with SMB as a room monitor or work the fundraising efforts of the ballet.
5. What is your favorite thing about Bossier?
Born and raised in Haughton, my favorite thing about Bossier is that I can get to anywhere in 15-20 minutes. Whether it is a weeknight and I need to drop in to make a quick grocery run or a weekend, where spending the most time with family is important, Bossier meets all my needs with convenience.
6. Where do you like to hang out and why?
Being a busy mom of 3 and working full time, on the weekends I like to spend time with my kids. My little sidekick and I like to shop and some of our favorites are the Louisiana Boardwalk and Simply Chic Boutique. Shopping always increases our appetite so our favorite restaurants we dine at are Posado's Café and Buffalo Wild Wings. Our favorite hobby to do as a family is bowling at Holiday Lanes. For my "mommy time," hanging out is usually about self care, complete with, pedicures at Chic Nails Spa and hair at Kutters Kabin with my favorite stylist, Amber Rice!
7. Is there something you'd like to see Bossier have in the future that it doesn't have now?
Bossier has grown so much in the last 10 years to where the things that I once wished we would have, we now have in our backyard. One thing I would like to see Bossier have is a nice winery and it would be nice to see a small amusement park like the old Hamel's again.
8. If you could tell people one thing about Bossier, what would that be?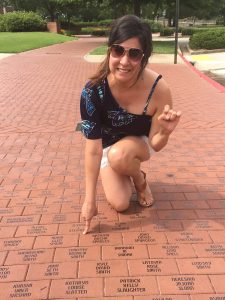 Bossier is the happening place to be. It has all the "small town feels, but city sounds" too! Whether you are new to the area or have lived here for years, Bossier has something for everyone, you just have to get out and explore. I have never regretted choosing to remain in the area and raise my family here in such an amazing community. There is just no place like home!