Thanks to Empower Yoga, "namastes" are now happening all over Bossier Parish.
With the success of Empower Yoga in Bossier City, the studio has now planted seeds in Benton spreading zen to a new location still within the parish. With the increased momentum of the first location at 1114 Villaggio Blvd., owner Tina Womack-Roccaforte saw an opportunity in Benton to grow the yoga business.
"My fiancé Dennis and I chose to open a studio in Benton because that is where we live, my daughter attends school [in Benton], and it is our community and we want to support it. Our goal is to offer a wellness experience by offering yoga, acupuncture and massage," she said.
All Types of Yoga
The Benton studio opened in early December and has been housing the majority of the current yoga classes, with the exception of aerial yoga.
"We offer all types of yoga in Benton from beginner (Slow Flow), chair yoga, intermediate yoga (Vinyasa Flow) power yoga, deep stretching (Yin Yoga) and Yin Yoga with guided meditation," she said. "I wanted to begin teacher training well before I was actually able to. There were always a million excuses for why it couldn't happen at any particular time. When I moved back home to Bossier in 2015, I signed up through Blue Sky Yoga and began my training. I completed training and was certified in 2016, taught for a while and opened Empower Yoga in January of 2017."
Womack-Roccaforte's  business name comes from her desire to "make every person feel welcomed, nurtured, inspired and empowered." She is a 200-hour certified yoga instructor and registered with Yoga Alliance. She also has certifications in kids and family yoga. She said she views yoga as a healing tool.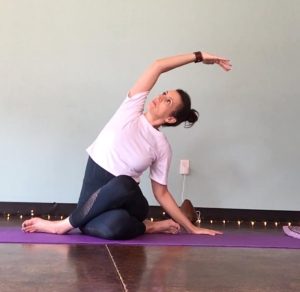 "For someone who has dealt with anxiety and panic attacks since childhood, I can attest how yoga, pranayama [breathing] and meditation has transformed my life," she said. "My practice allows me to control the agitations that can bring about anxiety or panic. I've learned to control anxiety. It no longer controls me."
If you've never tried yoga before, a good class to begin with is Slow Flow. Beginner classes are offered several times a week. Womack-Roccaforte said this class is a slower pace but teaches strength, stability, improved posture and mindfulness.
"My approach to teaching is to be open," she said. "I may lead a class, but I am learning just as much from my students as they are about themselves on their mat. Yoga is not something we master, it's something we practice."
Along with Womack-Roccaforte, three other instructors make up the team at Empower Yoga. Each of the instructors bring different types of yoga practices to the studio.
Aerial Yoga
One of those special practices is aerial yoga, which is only taught at the Villaggio location in Bossier City. This type of yoga is divided into two classes: Aerial Fly and Aerial Float Yoga. Fly and float differ in the level of experience needed. With Aerial Float students utilize the ground as well as float positions. Aerial Fly students do "full inversions" which means students are inverted in certain poses in which their head is above their heart. To participate in the Aerial Fly class, students must take a prerequisite of Aerial Fly Workshop.
"I want people to know that yoga is for everyone. You do not have to be flexible, fit or know [anything] about yoga to try it," Womack-Roccaforte said. "There are no mirrors in the studio for a reason, yoga isn't about what it looks like it is about what if feels like. [We] listen to our bodies and becoming mindful, cultivating harmony in the mind, body and spirit. We have classes for tweens, teens, adults and seniors."
Empower Yoga is also planning on hosting a men's power workshop in February. Look for more details on this workshop on their Facebook page.
To view the schedule and sign up for courses, click here or call 318-655-2211.
Locations: 1114 Villaggio Blvd & 202 First Street, Benton