The BPCC Cavaliers have an ace up their sleeve this year, with a talented athlete who might end up being the MVP of more sports than one. But we're not talking about a Bo Jackson or a Deion Sanders. We're talking about the brand new Captain Cavalier!
Though his face and identity are kept secret, Be Bossier got a chance for an exclusive interview with Captain Cav between the basketball games on Wednesday evening. He told us that he initially joined the team as a cheerleader and the school shortly thereafter put in a bid for a new mascot suit.
"This is the first year that we've had this look as Captain Cav," he said. "And so, once the suit came in, I just kind of filled the position as that."
As casual as the circumstances may seem upon which the new Captain Cav was born, the results are anything but. The character is not just larger than life physically, but he is towering in charisma. He interacts seamlessly with everyone in the gym: cheerleaders, referees, players and audience members alike.
Captain Cav's gestures are fluent and very believable. It is easy to understand exactly the message he is trying to communicate to the crowd without ever making a sound. With a flair for the dramatic and a skill for generating laughter, watching the Captain work the room is addicting.
The costume before, he said, "Was just an older version. It was the same, a cavalier, but it was outdated and not as cartoony. This one, we tried to make it look athletic and more kid friendly."
The Captain is hard at work all week long preparing for his performances at the games. He practices for several hours on Tuesdays and Thursdays with the cheerleaders and the dance squad, and then spends additional time building props, creating outfits, choreographing dances and developing skits.
Being a mascot is something that Captain Cav takes very seriously. It began as a childhood dream when he was just in fifth grade and his father took him to a game at LSU where he fell in love with the tiger on the field. The young Captain even wrote a journal entry about the experience which his mother uncovered years later.
After his time at BPCC, the man behind the mask has plans to seek out mascot work in the NBA. While this is no doubt a competitive field, talent like his will not go unnoticed. And with the portfolio he will carry into an interview after building Captain Cav from near nothing to something wildly exciting, they will probably look at him twice.
"Captain Cav is a character. He is the face of BPCC. He is his own person and not just anybody can be Captain Cav. It takes a certain amount of skills and a certain reputation inside and outside of the suit, as well."
Tryouts for cheerleading and dance as well as the mascot position will be held May 12, and this Captain Cav is hoping that he will have some competition for the role.
"It makes it fun. We're trying to get the word out. We've never really had a mascot program. I'm kind of just starting to wrangle it up. It's always just been that a cheerleader guy gets in the suit…that's just kind of sad to me. You need to keep the character and maintain that character."
If you haven't been out to the gym for a game this year, here is your reason! There are only a few home games left in the season:
Cavaliers: Feb. 16 at 4pm, Feb. 23 at 4 pm, Feb. 27 at 7:30 pm
Lady Cavaliers: Feb 20 at 5:30,  Feb. 27 at 5:30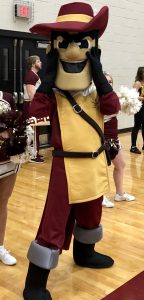 Captain Cav has a few things in the works for the future, such as launching an Instagram page and possibly entering cheer and mascot competitions. He would also love to be more involved with the Bossier community and is eager to make himself available for appearances. If you are interested, please contact Director of Student Life Marjoree Harper at (318) 678-6144.
You can also catch the Captain on the ball fields this spring. For a look at the game schedule, you can visit their website.