Do you ever go to a restaurant and you have no idea what to order? Or maybe you only order
what that restaurant is famous for. Often, I find myself doing the same thing. I'll go to a
restaurant and I'll order what I think is the best option, but recently I've noticed that sometimes
there is a hidden gem on the menu. This item is absolutely delicious, but it is something you
would have never expected to order there. Lucky for you, I've found a couple of these hidden
gem menu items right here at some restaurants in Bossier. Feast your eyes on these secret
treasures:
1. Honey Mustard at Cane's
That's right! There is a secret sauce at Cane's that customers have no idea about. And honestly,
why would they? Cane's sauce is absolutely delicious and pairs well with their hand-breaded
chicken tenders. BUT, there is another homemade sauce they offer that is also very tasty. Cane's
has honey mustard that they make in-house. It is creamy and tangy with the same flavors that a
traditional honey mustard would have, but you can definitely tell that it is made fresh. Cane's
doesn't have the sauce on their menu, so you'll just have to ask for it. Now you can have TWO
amazing dipping sauces to round out your visit to Cane's.
2. Burnt Cabbage at Lucky Palace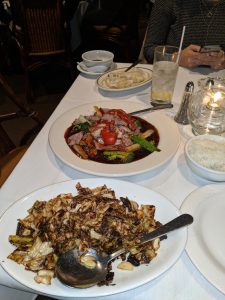 I'm going to have to give a shout-out to my friend Sara Hebert for this hidden gem menu item. On a dinner date, she told me I had to try the burnt cabbage at Lucky Palace Chinese Restaurant. Now, I like cabbage just as much as the next person, but I could tell from the expression on her face that there was *something* special about this cabbage. It was sweet, salty and caramelized to perfection. Some parts of the sautéed cabbage were crisp and some parts were tender. Every time I go to Lucky Palace, I HAVE to get burnt cabbage. There just isn't any way I could pass it up now. The reason this dish is so hard to spot is because on the menu it is just called "sautéed cabbage." However, if you just order burnt cabbage, then the waiter will know exactly what you're talking about. Ordering it is going to be one of the best decisions you'll ever make.
3. Wings at Silver Star Smokehouse
I know what you might be thinking…who goes to a BBQ restaurant and orders wings? Well,
then you probably haven't had the pleasure of eating wings from Silver Star Smokehouse. Don't
get me wrong—I love the pulled pork and certainly the famous au gratin potatoes at Silver Star
BUT you can't sleep on their fried wings. These little beauties can be found on the menu under
appetizers and they are some of the best wings I've ever had. The battered bone-in wings are
crispy with the perfect amount of heat to them. They are spicy, savory and very tender. I don't
know how I went to Silver Star for so long without trying them, but now I try to order them
every single time I go.
4. Korean BBQ Short Ribs at Kabuki Sushi & Roll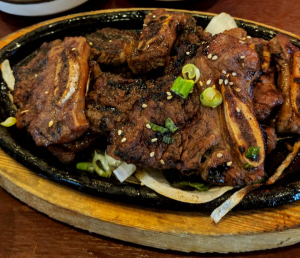 It's true that Kabuki Sushi & Roll itself is quite the hidden gem in town. Not a lot of people have ventured over there because they've never heard of the place. However, when people do make a trip over to Kabuki they usually find themselves drawn in by all the amazing sushi options. They have every roll there that you can think of—and even some that you probably have never thought of. But there is one hidden gem on their menu that most people won't think to order and that is the Korean BBQ short ribs (galbi on the menu). These succulent short ribs are marinated and then grilled to perfection. They come served up on a sizzling hot plate on top of a bed of caramelized onions. The dish is the perfect marriage of sweet and savory. So if you ever make a trip out to Kabuki, you should take a chance on their short ribs.
Check out these hidden gem menu items at these restaurants in Bossier. They are sure to become
some of your new favorites!