Bossier is home to many professionals in a variety of fields. One of those people working in their dream jobs is Legacy Elementary physical education teacher, Kellie Duke.
She wanted to be an educator after a teacher she had growing up made such a positive impact on her life. It caused her desire to be that person for as many students as possibly. She has a passion for teaching young children about the importance of overall health, fitness and mental well-being.
"I desire to instill in them a lifelong commitment to health and fitness because of the overall positive impact it will have on their lives," Kellie said. "I firmly believe physical activity and living a healthy lifestyle plays a major role in a child's learning experience and academic achievement level."
Kellie is a Lake Charles native and graduate of Louisiana Tech University. A Louisiana Tech cheerleader, Student Recruiter, Phi Mu member, and a member of A+Pel, she was also actively involved in First College ministry at FBC Ruston. During her time at college, she met her eventual husband, Jacob Duke, in her freshman year. The couple moved to Bossier City in July and have grown to love the community.
When she's not shaping young minds, she enjoys taking road trips to try out new restaurants, doing outdoor activities, reading a good book and trying out a new healthy recipe.
At work, Kellie is a sponsor for Running Club and Cross Country. She says spending time with her students outside of the classroom in those settings gives her an opportunity to know them better and create a positive teacher-student relationship with them.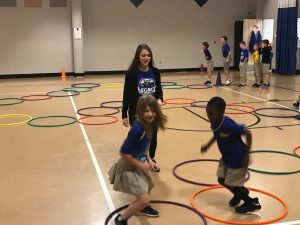 Her favorite thing about being a teacher is the hugs and high fives from her students, and the excitement her students show when they see themselves improving at a new skill or game.
"I love to model, teach and enhance the skills of my students and it's a wonderful feeling when they are motivated to master something in your class," Kellie said.
Working for Bossier Parish Schools excites Kellie because she believes the education system is eager to thrive and become the best in the state.
"They provide us with the technology and resources we need to better equip our students for success. It's awesome to be a part of such a powerful movement where so many educators want to be the best they can be for our students," Kellie said.
She adds Bossier Schools makes its teachers feel special with things like a stipend for teachers who achieve perfect attendance each month. She says many teachers greatly appreciate the "little bit of happy." She added that the school system's social media updates are another example of how they regularly recognize and award their teachers and support staff for their hard work and dedication.
"As a teacher in Bossier, you have a great support system that will go above and beyond to help you succeed," said Kellie. "I've only been in Bossier since July, but it didn't take me long to see how incredibly welcoming and supportive the people are in Bossier's schools."
It's this passion and all these factors that have made Kellie realize she loves her job since the first day of school. From her school's Legacy Bear Tracks Fitness Challenge to sponsoring the school's Cross Country team, Kellie says she's blessed to be a Physical Education teacher with an incredible support team and amazing kiddos.
"One of the many times that made me realize I love my job was when we played a new game called Hula Hop. In this game, students are divided into teams and they go one at a time. They must hop with both feet through a pathway of hula hoops, and when they meet face-to-face with their opponent they play a game of rock, paper, scissors. Whoever wins gets to keep on hopping forward until the new opponent reaches them. If they make it all the way to the last hula hoop without losing a match of rock, paper, scissors, they receive a point. Students love this game and they are constantly cheering on their team to keep up the good work. Every day I come to work so thankful to be able to be a positive light to these kiddos and help give students a healthy brain break from their classwork."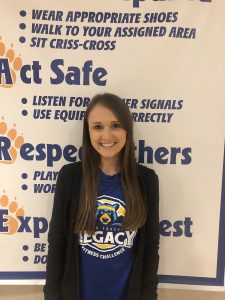 Looking ahead to the future over the next five years, Kellie wants to stay the PE teacher at Legacy. She said that's because it's a joy to work at Legacy. However, she does hope to host a cross-country race or a 5K at Legacy and bring together the community and other schools to participate in it.
"The biggest thing that I have noticed about Bossier is how willing businesses and organizations are to help out and sponsor events for the schools in Bossier Parish. I truly believe that local businesses are the driving force behind any thriving community, and a strong partnership between schools and businesses is key to building a strong education system for our students."