This spring has brought rain, rain and more rain. But, there are some really great ways that people are finding to enjoy the good days and great temperatures with their families. Here are a few ideas to get you out and about when the weather is nice in Bossier Parish:
1. Go shopping
That's right! You can spend a day at the Louisiana Boardwalk Outlets going from store to store, whether you're buying or just window shopping. All of those footsteps will add up, and your smartwatch will congratulate you on exceeding your goals. The perks come when you include the beauty of the fountains, the buzz of excitement from the shoppers and the overhead music. Sometimes, you can even catch a live show under the overpass! It's nice because there is a walkway right next to the Red River. You can enjoy a breeze coming off the water and take in the picturesque views, all while getting some much needed exercise.
2. Plant a small garden
Gardening is a fun and extremely satisfying pastime which requires regular outdoor activity and yields a big payoff. Candy Hart of Benton is trying her hand at gardening this year for the first time and has made a family project of it.
"I feel like gardening teaches my kids responsibility and instills a hard-working ethic into my boys," Hart said.
Gardening is good for us in many ways: It connects us to nature, gives us fresh air and exercise, directs us toward a healthier diet and gives us pride in our accomplishments.
3. Visit one of Bossier Parish's parks
North Bossier Park, also known as Brownlee Park, has an expansive trail, which is great for walking and running. There are benches scattered throughout, so individuals who might need frequent rest can have a place to sit comfortably. Of course, there is a splash pad open in the hotter months and a great system of playgrounds for the little ones. Joe Delaney Park in Haughton also boasts a splash pad with 2 large playgrounds. They have plans to commence construction of a walking path and add a Veterans' Health and Therapy Garden in the near future.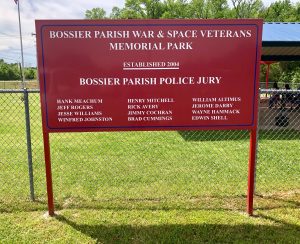 Also in Haughton is the War and Space Veterans Memorial Park, more commonly known as Tall Timbers Park, which has a fenced-in playground and a 0.27-mile paved track that is just right for exercise or teaching the kids how to ride a bike! There are many others as well, like the Shed Road Community Playfields and at Mike Woods Park, you will find ball fields, walking paths, playgrounds, and in the summertime, public swimming pools!
4. Mix it up with Camp Gladiator
While there are a lot of fitness options available for those willing to pay, Camp Gladiator offers something totally unique to the active family. Rachel Welton and her family are members  and think that Camp Gladiator is a must.
"It's designed for men and women so husbands and wives can work out together," said Welton. "The workouts are kid friendly, so moms and dads don't have to worry about child care during workout times.The kids can even come along!"
These workouts are structured with weekly goals and are done at the participant's own pace based on their fitness and ability. Welton says that she has lost 65 lbs and dropped several pant-sizes with this workout.
"I never thought I would find a workout program that I love so much," she said. "And it's because of my family, not just the workouts. I'm so thankful to God for leading me to Camp Gladiator!"
5. Get into nature at the Bodcau Dam
The Bodcau Dam is a beautiful and quiet place to escape for a picnic and some scenic hiking. The Durden Hills Nature Trails wind for miles and are great for walking or riding a bike. There is a playground for the kids with adult outdoor exercise equipment adjacent so that the grown-ups can enjoy some low-impact exercises while the kids swing, spin and climb. The trails, restrooms and grounds are incredibly clean and make for a relaxing little getaway overlooking the rushing waters of the Bodcau Bayou dam.
No matter your level of fitness, there are plenty of great ways to get the family outdoors and active this spring. We hope that you enjoy these ideas and use them as inspiration to get you up and moving in our wonderful Parish!