Mudbugs. They're a staple of Louisiana cuisine and a symbol of the state's culture. But there's another Mudbugs, one that is a staple of the local sporting culture and a symbol of northwest Louisiana and now they have a new leader. The Shreveport Mudbugs hockey team's head coach is a Bossier resident. He wrapped up his first season as head coach after being hired last summer. Jason "Soupy" Campbell loves where he lives. 
"I met my wife while I was here and now I'm a transplanted Canadian with three kids that go to Bossier schools. My wife and I may both work in Shreveport, but we love living in Bossier," Campbell said.
After the season ended, assistant coach Campbell was named head coach. It's a fitting path for the long-time Mudbug who began his career with the team in 1999.
The Shreveport Mudbugs hockey team has been in both Shreveport and Bossier since 1997. Starting out in the Hirsch Coliseum in Shreveport, they spent the large majority of their life at what is now the CenturyLink Center in Bossier and changed their name to the Bossier-Shreveport Mudbugs to reflect that. The team went dark in 2011 after winning the Central Hockey League championship, their fourth title overall, before returning in 2016 to a remodeled Hirsch and plying their trade in the Tier II junior North American Hockey League. Just last year, the Mudbugs won the league's championship, the Robertson Cup.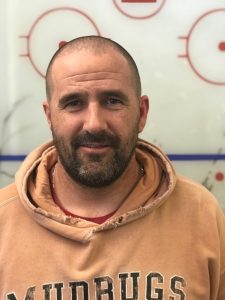 Campbell's eight-year span with the team and settling down with his wife, Shanda, made it almost impossible to get back to the North. He said after his career ended, his wife told him she could never survive a winter Canada, so he settled into normal jobs, like starting his own lawn service and working for KCS Railroad.
"You're here for so long and just make so many connections, and it's my adult life, right? When it's all done, I was married and had my Green Card," Campbell said. "I don't even know if I could survive a winter back there now after living down here for so long!"
Eventually, he reconnected with an old general manager of the Mudbugs, Jason Rent, who was working for the Dallas Stars NHL team at the time and he got on with the major league franchise in a back office role. He worked out of Plano, TX before he got wind that the Mudbugs were coming back. Biding his time with a Stanley Cup-winning franchise, it was a strange position to be in — so much potential for the future, but his heart longed for Bossier-Shreveport and the team where he played so much of his career.
"I was like, 'Man, I'm working for the Dallas Stars, you don't know where this could lead, it's a pretty cool opportunity.' I was basically over there to see if it was going to work out and if it did, maybe my family would move that way. But Mudbugs hockey just kind of takes you over," Campbell said. "It's the culture, it's the character of it all. I had such a great experience here, that it was a no-brainer for me, and something that I wanted to be a part of."
He was called to come back to the team in its infancy stages working with the youth hockey and coaching East Texas Baptist University before becoming an assistant coach for the new iteration of the Mudbugs.
"I wasn't right here at the beginning, but I wanted to be right here as close to the beginning and the infancy stages as I could. I think we offer something that is extremely unique, not only for our team but for our youth hockey program, figure skating, birthday parties. I tell people all the time how fortunate am I to be coaching hockey in Louisiana of all places."
Being chosen as head coach is something Campbell refuses to take for granted. Admitting it is a learning experience, especially the administrative side of it, he said being head coach is more than "just hockey."
"The hockey alone, I've learned so much the past two years, but there's everything else that comes along with it — you have the kids in (temporary homes for the season), guys in online schooling, curfews, an athletic trainer, there's injuries, there's import rules, there's all kinds of stuff going on."
He said the approach to the Mudbugs has always been, and still is, regional. He noted the franchise has their players helping in both the Bossier and Shreveport communities, as well as families in Bossier opening up their homes to players for the season.
"The team has been in Bossier and it's been in Shreveport. Some fans don't want to drive from Shreveport to Bossier, or Bossier to Shreveport, but that's their loss," Campbell said. "These players that come in here know they're going to be in the community. A big one we did this year was anti-bullying. These kids really listen to you and even if you have one kid ask a question out of 800 students in the gym, that was at least one kid you're reaching."
As the team has entered the playoffs, for what little of the season remains and looking ahead to next year, Campbell said he hopes the community is entertained. He says spectators don't have to know every in and out of the game to enjoy Mudbug hockey, he says people can enjoy an ice skating session after the game or just have a family-friendly night out.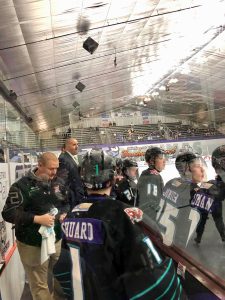 As they close the book on the 2018-19 season, Campbell wants to thank the community, saying the Mudbugs has not only given him a job, it's kept alive his love for a game, and allowed him to interact with the community he cares so deeply about.
"Interacting with the community is what we've done since day one when I was a player here. I've never been shy to go into the community and volunteer," he said. "I love Bossier, I love Shreveport and I love providing this opportunity for, one day, local kids to play for the Mudbugs."