Customers of Bossier Federal Credit Union's main office on Airline Drive in Bossier City always know that there is a familiar and friendly face waiting to greet them.
Affectionately called "Miss Doris," Doris Randle is renowned by bank clients and the surrounding community for her sunny attitude and commitment to customer service.
"That's just me," she smiled. "I'm just a happy person."
Miss Doris is approaching her 20-year anniversary with Bossier Federal Credit Union this October, and she credits her longevity to the people.
"This is my second home, these coworkers are my family," she said. "I don't think you could find a better place to work, honestly, and I mean that seriously. I think that is what has kept me here for so long, because of the people I work with."
Although the industry has changed significantly in the past two decades with rapidly evolving technology, Miss Doris' job has stayed the same — talking to people. She said that callers are surprised to hear a human answering the phone. However, she said that personal touch is one of the reasons people continue to do business with Bossier Federal Credit Union.
"I tell people all the time that I have the best job in the building. I get to meet people, I get to see people, and I get to run my mouth, which I like because I like to talk," she laughed.
Although she has the personality for greeting and talking to people, she says that she is still a quiet person and her position gives her an outlet to be social.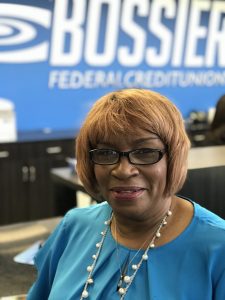 "I was brought up to always speak to people," Miss Doris said. "Even before I started working here, when my children were younger and we would go places, I would tell people good morning and it would just seem to always start a conversation. Then my kids would ask me, 'Do you know that person?' and I would say, 'No.' It's just me."
Still, dealing with the public can have its challenges and as the first line of defense, so to speak, Miss Doris has to be able to sometimes diffuse clients or even have thick skin herself. She tells herself to remember that even when someone has an issue, and it seems sometimes they are taking it out on her, its not her fault.
"I try to keep in mind that they're not upset with me. It's whatever else is going on in their lives and when it comes to their money, it can really cause them to express themselves in a different way than normal," she said. "And even though they're upset I try not to show that I don't like how they're talking to me. Usually, when I do that, even after the situation has been resolved, that person will come back and apologize, and I understand. And, I do understand. Over the years, I have had to learn that."
Born and raised in Shreveport, the mother of three is a military spouse who moved away due to her husband's position, but they looked so fondly on the area that they decided to move back. Even though she has to drive over the bridge every morning, Miss Doris said her love for the job is what makes her commute to Bossier.
"Don't get me wrong, there are some mornings I just want to sleep," she laughed. "But for example, when I'm on vacation, by the end of it I'm ready to come back to work."
A memorable time that reminded her of how much she loved her job was when she formed a relationship with a client over a tragedy of losing a child. Miss Doris said she can relate because a client lost a child and she had also lost a child. She says she still hears from that person every so often.
"I could write a book," she surmised.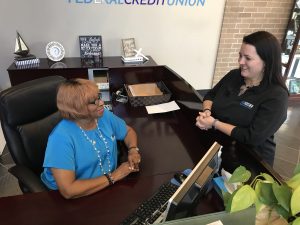 In the end, it's all part of the job for Miss Doris. She says that every person who walks through her branch's doors is someone she wants to speak to in order to make him or her feel comfortable and important.
"If it's a member of our bank, I usually know something about their family. And I think that little personal touch makes them come back or want to come back."