In the era of corporate franchised restaurants and fast food, it's always a pleasure to come across something that's family-run and local. Cascio's Market Bistro has been a fixture on the Bossier restaurant scene for more than 10 years. It's a casual, family-friendly bistro that has become a favorite for those wanting either a quick lunch or a no-rush dining experience with family and friends.
Rocky Cascio was the original owner but the operation changed hands five years ago when T.J. Forrest, a newcomer to the restaurant business took over. "I played baseball for the University of Arkansas and after college I decided to try something new," Forrest said.  "My dad had started out with Rocky from the beginning and so one day he and I had a talk about trying this out and as they say, the rest is history."
Road Work Slows Things Down
When T.J. and his dad took over Cascio's five years ago, things were going well, but then an unexpected event took place in the form of road construction on Shed Road.
"Things got pretty bad with the street being worked on and it was brutal," Forrest recalled. "We had one good year starting out and then construction on Shed Road started which lasted three long years and customers just didn't want to hassle with road construction.  We managed to stay busy although we looked full all the time, we really weren't because at 12:15 our lunch rush would be over, and it would start to thin out; it was crazy."
But with construction on Shed Road complete, traffic is flowing, and Cascio's Market Bistro not only looks busy, it is busy thanks to proximity to the Airline Drive corridor and being a short drive from Benton Road.
"We're perfect for the lunch-break crowd who want something really good and fast. They get in, order, eat and then get back to work," explained Forrest. "And even though we're busier than in the past, we can get you in and out if you need a fast lunch. Plus, we have extra parking in the back, so folks don't have to worry about finding a place to park either."
Cascio's has a counter-service and you can have orders to go or dine-in.  There's even a drive through for faster service, especially for call-ahead orders.
Something for Everyone
While pizza and lasagna and muffulettas are customer favorites, there's a whole slew of options from lighter fare to more substantial lunch specials.
"We have lighter, more healthier things that won't weigh you down so that when you get back to work you won't feel like you need a nap," explains Forrest.  "But we do have some things that'll put you down like the specials. Today, we had our hamburger steak dinner with rice and gravy and a roll and that's going to stay with you for a while."
While Cascio's has a lunch hour crowd, there's no need to feel rushed if you want to dine in.
Micah Tapp, a former Bossier native found Cascio's to be the perfect place for a lunchtime reunion with high school friends recently.  While visiting from Georgia, he remembered hearing about Cascio's reputation as a good choice for good food and easy casual dining.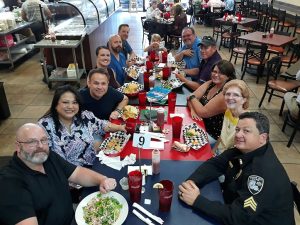 "I visited Cascio's in January and because I'm a vegetarian, I had the veggie-burger which was one of the best I ever had," Tapp explained.  "I came back to visit this past July and organized a lunch with a lot of my high school friends and discovered the veggie-burger was no longer on the menu.  But Forrest, Sr. offered me an alternative which was the eggplant panini sandwich. So I gave it a try and was blown away at how delicious it was. That's my favorite sandwich now and when I come back in September, I'm definitely going to go back for that meal!"
Good food is always a factor in keeping customers coming back for more.  But at Cascio's it's the winning combination of familiar food choices paired with a pleasant atmosphere that is genuine.
"The folks at Cascio's have a way of taking every day All-American food to the next level" said Tapp.  "I would confidently recommend this place to the next celebrity that comes in town!"
Quality and Consistency
Cascio's Market Bistro menu is chock full of choices.  And with all the variety and speed of service you might think that the ingredients are pre-made from some foodservice supplier.  Owner T.J. Forrest would say that assumption is far from accurate.
"We have the freshest sandwiches and salads you can find anywhere," explains Forrest. "All the lettuce is cut every morning, we cut our own lettuce, no bag lettuce. No pre-sliced bag meat, no pre-sliced bag cheese, we slice our own, everything from Boar's Head brand."
Cascio's also has some unique, one-of-a-kind items on the menu, a combination pizza and muffuletta creation that has put Cascio's on the map for many customers near and far.
"We have the Pizzaletta which was named "Best Pizza in Louisiana in 2007" by Food Network Magazine," Forrest said proudly.  "We also make homemade lasagna, homemade spaghetti, homemade meatballs, we have our homemade sauce. Truly, everything we have is just fresh and the best part of it is it's quick.  You can come in here and the longest you're going to wait is standing in line to order. That is it."
Location: 2750 Shed Rd., Suite G, Bossier City, LA 71111
Contact: (318) 742-3205
Hours: Mon-Thurs: 10 a.m. to 3 p.m.
Friday: 10 a.m. to 8 p.m. (Lunch and Dinner)
Saturday: 10 a.m. to 3 p.m.
Closed Sunday