The job market in Bossier is healthy and growing, so much so that it often attracts workers from Texas. One of these commuters is Austin Smith.
Austin, 28, is a native of central Texas and currently lives in Waskom, TX. However, he makes a daily one-hour round trip commute to work at Gas Analytical Services in Bossier City.
Austin has worked at the company for five years. Three of those years were after they relocated off Shed Road in Bossier. Currently, Austin is a lab technician/driver. He cleans bottles, tests natural gas samples that come into the lab, and redistributes those bottles to customers in Louisiana, Arkansas, Texas and Oklahoma. 
He says he heard about the job through word of mouth. He studied kinesiology in college, but figured out it wasn't for him.
"…I discovered school, at that time, wasn't for me. So, I dropped out and heard about this job. Honestly, it has been easy to learn what to do coming in cold, and I have only grown in the company from there."
He said the position offers good pay, even without a degree, and it's a good opportunity for starting out in the oil and gas industry.
"It's really laid back, and it's something that is easy for me to grasp."
As for the drive, Austin was quick to say that his job is worth the time spent on the road, pointing out that his position is stable and pays him well. Looking back, he remembers the time where that briefly wasn't the case, and how his boss fought to keep him on staff.
"Corporate was making cutbacks and wanted to lay me off, but my boss went to bat for me saying that I was needed. I'm not the highest man on the totem pole, but he realized how important I was. That made me feel appreciated and increased my loyalty to them," he said.
Austin said that even though the oil and gas industry can change fairly often, he thinks Bossier's business climate keeps that industry healthy. He points out that most things in the industry are picking up and going to west Texas or up north, but the industry is doing so well in northwest Louisiana that quality jobs can be found in Bossier without having to go elsewhere.
While Austin is committed to his current gig, his real passion is graphic design.
"Ever since childbirth, I've been drawn to art. Pun intended," he laughed.
That skill even opened some avenues with his current job when his company came to him to ask for ideas about marketing materials. Austin pitched in with some designs for that effort.
In the future, Austin hopes to gain as much knowledge as he can about entrepreneurship and work towards opening his own marketing and design firm where he could design logos and graphics for other businesses.
"I would prefer to open a business locally. I have connections and working relationships with the business community here. I realize there's a lot of competition in that field already, but Bossier is growing so I think there's room," Austin said.
Besides his professional ties to the area, the native Texan spends quite a bit of time in Bossier after work, taking in the variety of entertainment options.
"Where I live, I have to go out of my way to have some fun. Here in Bossier, it's all just right down the road— we can go eat dinner at BeauxJax and throw axes right next door. Then there's a local brewery a little further down the street. I don't have any of that where I live," Austin said.
The spot you're most likely to find him in, however is the gym. Specifically, the Anytime Fitness off Beene Boulevard.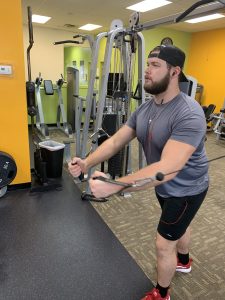 "I like to stay in shape, and now I've made friends there. Our gym is small, so people know each other's names and what you do for a living, what your hobbies are. So it's almost like I'm hanging out with friends while working out," Austin smiled.
Through the lens of someone who commutes for work, while living elsewhere, he says Bossier is a land of opportunity.
"At the border between Texas and Louisiana, Bossier is the closest place with real opportunities. It's where just about anything is possible."