As the hot Louisiana summer transitions into a cool crisp fall, restaurants gladly welcome back the cool weather's partner-in-crime: soup. If you're in the search for the perfect bowl of soup made with fresh ingredients, look no further than these four places in Bossier with soups that will be sure to satisfy your comfort food cravings.
1. Gullo's Market
Gullo's is a staple for mouthwatering soups and sandwiches. Located off Stockwell Road in Bossier City, the family-owned and operated restaurant recently switched back to its original management to serve lunch Monday-Friday. The staff comes together each morning to prepare fresh food for the weekday lunch rush, including homemade soups.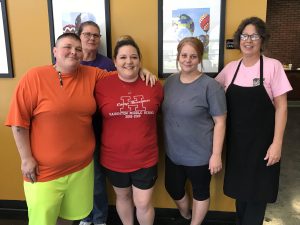 Each day, the staff prepares a different soup from scratch. On Mondays, customers can expect a fresh tomato basil soup, Tuesday is chicken noodle soup, Wednesday is chicken and dumplings, Thursday is potato soup and Friday is vegetable and beef.
According to one of the staff members, Crystal, customers love the soup choices not just for their delicious taste, but also because each soup is prepared homemade by the owner, Angie.
Crystal said her personal favorite is the potato soup, but customers cannot go wrong with any soup from their selection.
Visit Gullo's and warm up with a bowl of soup at lunchtime Monday through Friday.
2. Cascio's Market Bistro
Another family-owned local restaurant, Cascio's, is also well-known for its lunchtime specialties. The bistro offers a variety of soups in the colder months, including a fan favorite, New England clam chowder.
Owner T.J. Forrest, a graduate of Haughton high school and baseball alum of LSU and University of Arkansas, said one of the best things about this chowder is its fresh ingredients.
"The New England clam chowder is made with Boar's Head meat, so its ingredients actually come from the New England area," Forrest said. "It's the real deal clam chowder."
Along with New England clam chowder, Cascio's also offers red pepper gouda soup, gumbo, chili, Italian wedding soup and tomato basil soup, among others during the winter months.
"The soups complement our sandwiches and our salads very well," Forrest said.
Head over to Cascio's off Shed Road on Monday through Saturday and indulge in a combo of one of the restaurant's signature sandwiches and soups, or just dig into a bowl of heart-warming soup.
3. Counter Culture
The oldest of the four restaurants listed, Counter Culture began in 1977 when two college girls opened its doors to serve quality frozen yogurt. Since then, the popular local lunch and dinner joint has branched off into multiple locations and expanded its menu to serving wholesome soups, sandwiches and of course, frozen yogurt.
While cold weather does not typically incite cravings of frozen yogurt, customers can enjoy a cup of the restaurant's homemade "soup of the day." While each day varies, the restaurant is known to serve chowders, potato soup and broccoli cheddar.
Customers can call the location of their choice prior to ordering to see what the soup of the day will be, or they can take their chances and try something new. Either way, customers will leave with their taste buds happy and stomachs full.
4. Beauxjax Crafthouse
In Louisiana, a cold weather staple is none other than the food the state is arguably most known for: gumbo. While perhaps gumbo is not necessarily labeled as a soup, its comfort food qualities make it a Cajun essential as the weather cools down.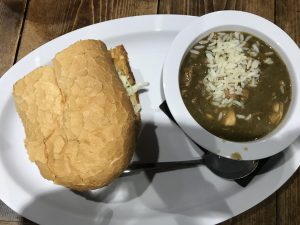 Bossier is packed full of places to order heaping bowls of gumbo goodness, and one of those places is Beauxjax Crafthouse, located in Bossier's East Bank District.
Like all of the food prepared by Chef Peanut, the gumbo is made with fresh, quality ingredients and beckons warm feelings of Louisiana tradition. The dish, known as "Gumbeaux" on the restaurant menu, is made with chicken, sausage, trinity and okra served over a hot bed of rice.
The restaurant's gumbo is a perfect pairing with one of their famous New Orleans style po'boys, as well as on its own. Stop by Beauxjax Crafthouse seven days a week for a taste of authentic Louisiana culture.