Devil's Knot Haunted Trail in Haughton was born from owner Lisa Smith's love for Halloween and a passion to give the community a unique attraction appropriate for the holiday.
"My passion for it got me through a rough couple of years, personally. It gives me something to focus on and has been a lifesaver," Lisa said.
The mother of three boys said birthday celebrations for one of her sons was what got her really meditating on using their property for a haunted attraction.
They used 10 acres of their 40-acre property to hand carve a trail. Lisa and her sons oversee the whole operation.  Her sons do everything from parking and concessions to acting in the haunt while Lisa runs things behind-the-scenes.
"It's our home. I have a horse farm with 10 acres strictly for the haunt. This is my job now," she laughed. "It's my passion and I enjoy it, but when you're the owner, you don't get to do the fun stuff. Last year I did a lot of hostessing, this year I will be doing the tickets and working out front. That's the way the cookie crumbles."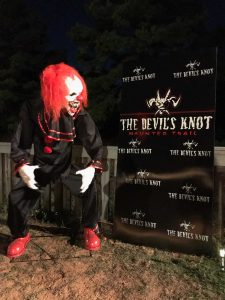 They started small by inviting friends. Their first year, back in 2016, only saw 35 people come through the gates. However, all proceeds still went to the Northwest Louisiana War Veterans Home.
But by the second year, around 4,000 people showed up. Lisa admits they were overwhelmed, saying, "It was a mess, we got shut down. We had no clue. We learned in a week's time how to get it together."
Now, they have been named one of the top 5 haunts in Louisiana. It's rewarding for a project they work on all year long.
The outdoor, one-mile trail mixes it up with terrifying spots and some peaceful, enchanting spots.
"The trail itself is scary with no one on it. Last year, I was putting lights up and I thought the boys were trying to scare me. When I walked out, no one was there. It freaked me out," Lisa said.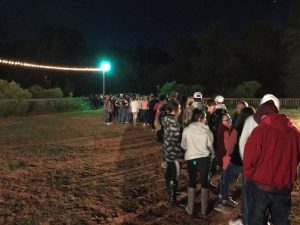 The haunt's story started out with a wrecked insane asylum bus at the home of some escaped patients and the trail leads through their property. It has evolved each year, continuing the story.
She notes that it's all in good fun as adults from all walks of life come out as a way to blow off steam and be a kid again.
Helping Lisa are 35 to 40 people, including professionals who volunteer, using the opportunity as a way to have fun themselves.
James Loftin is one of those working with Devil's Knot. By trade, he's a welder and fitter, but this is his second year at the Haughton attraction and his 20th year spent in haunted houses ranging from Nashville, TN to Charleston, WV.
The actor will bring his own creation, Woogie, to the Devil's Knot. He also serves as a section leader on the haunt and helped design and build some of the spooky sets visitors will see.
"What attracts me to it is 'The art of the scare,'" he said. "I know that sounds weird, but there are many different techniques that go into a good scare. Not everyone will be scared by the same thing. So, we have to adapt ourselves to see what each person is scared by and go with that for the scene."
James likened it to improv acting, noting that there are no lines and they have to feed off the customer. And, an important element of that is teaching new actors how to get out of their comfort zones.
"I love that I get to be creative. I get to design and build. But just as important to me is teaching the new actors that don't know how to do it yet. I like to get people who are shy to break out of their shell, and the easiest place to do that is in a haunted house because when you're behind a mask, you can be whatever you want to be," he said. "I get to show them a different side other than the normal, everyday behavior. Here's a place where being different isn't a downfall, it's an asset."
He believes in it so much that he will take his own time to travel throughout the ArkLaTex spending a weekend training actors or helping create/fix haunts. James explained that's because the industry is a "dying breed."
"The new generation doesn't want to put in the effort and the older generation can't do it anymore. So, anytime I can help out and keep it going, I do my best. By no means is it a job to get rich at, it's something you do for the love of doing it," he said.
He tells attendees that The Devli's Knot cast has worked hard to up their game this year. And, Lisa wants prospective attendees to know that while safety is the first priority and there is no touching, it's still intense, saying, "We've had people leave here running out of the trail with one shoe on and won't go back to get it."
T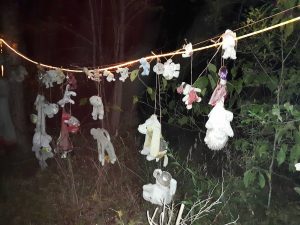 he haunt sends through groups of eight, saying that it can have a bit of delay between groups going through the trail. She warns that the trail is a real woodland trail with uneven ground. She notes there is no age limit, but parents will be asked to sign a waiver for themselves and their children.
The Devil's Knot runs weekends from Oct. 12 through Nov. 3, plus Halloween night on Oct. 31 (Halloween night will also see a special "blood bath" night where people can get shot by fake blood). Tickets are $15 general admission and $30 for a VIP fast pass. Only cash will be accepted but tickets can be purchased ahead of time online here.