All it takes is a single opportunity to craft a success story, and local soccer coaches Joseph Winningham and Rafa Muniz intend to provide just that.
The duo lead the newly founded Red River FC Black Bears. The Bossier City-based pro club will compete as part of the United Premier Soccer League in both the men and women's divisions. The UPSL has over 300 teams across the United States, and Red River FC will make its debut in Fall 2020.
An open tryout for RRFC was held on Feb. 29-March 1 at South Bossier Park, with talent traveling from as far as Brazil and ages as young as 16. These events give Red River FC a chance to form its teams and get in some valuable practice and scrimmage reps with surrounding area teams before the fall openers.
"It all comes down to opportunity; If we create it, people can build from it," Winningham said. "I wanted to bring my love and passion for the game that's done so much for me, and use that to create an opportunity for others. That's what coach Rafa and I agreed with and we came together to give that opportunity.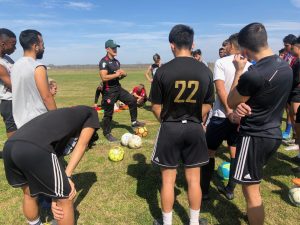 "We felt a need to really connect our soccer community to larger areas in the U.S. and even outside the U.S. We have players (in our area) from everywhere. If you look at LSUS, Centenary, Alexandria, etc., we have international players that go to college here that have soccer as a big part of their culture. So when they're done with their soccer seasons, they still want opportunities to continue to play, so we wanted to bridge that gap. We want to bring that soccer culture from the rest of the world to here."
More than 50 hopefuls showed up to showcase their skills and learn new ones from Muniz and Winningham. The talent ranged from recreational players to high school and college athletes, to some that have played on the pro level in their respective countries. One athlete in attendance was a former World Cup participant.
"I found out that coach (Winningham) was having a tryout, so here I am," Airline High School student Jose Fernandez said. "I've loved soccer all my life, it's in my blood. It's my culture. I just want to come out here and get better."
Red River FC was founded in October of 2019. The Black Bear mascot was chosen because of their fight from being nearly extinct to flourishing again, according to Winningham. Although this team is brand new, Winningham and Muniz are certainly no rookies to the game. The co-owner/coach tandem have over two decades of combined experience.
Muniz is a Brazil native who played on the pro level before moving to the U.S. to suit up for Wiley College in Marshall, Texas. When he wasn't on the pitch for the men's team, he was on the sideline as the head coach for the women's team. He'll pull that same double duty for RRFC.
Winningham got his start in Europe as a part of the Belgium Youth National Team. Back in the states, he played in various semi-pro and premier leagues before suffering career-ending injuries. But he still exudes his love and knowledge of the game through coaching. He'll lead the charge for the men's squad.
Together these two plan to build a soccer powerhouse that the whole city can rally behind and support.