KIDS ACTIVITIES/PROGRAMS IN BOSSIER
Parents searching for kids activities/programs in Bossier Parish can find quality pastimes in the Bossier Parish Sheriff's Young Marines Program, Bossier Arts Council, and Bossier Parish libraries.
"My son struggled to make friends and connect with other kids until he joined the Young Marines in Bossier. I always thought it was for behavior problem kids until someone suggested it to me. Alex has never been more confident, physically active, and engaged in life outside video games," states Haley Reggio Pederson. Her son has been a participant for almost two years. She has witnessed positive growth and maturity in those two years, which she credits to this organization.
Bossier Sheriff's Young Marines Program
(318) 965-3500 | www.bossiersheriff.com/young-marines/
The Marine Corps League officially chartered the Young Marines as a national program in 1965. The Young Marines is a youth education and service program for boys and girls age 8 through high school completion. The Young Marines promotes the mental, moral, and physical development of its young recruits. The program is sponsored and administered by the Bossier Sheriff's Office.
"The only requirements are that the child is in good standing with academics, has a good behavior history, and can meet a physical fitness level. Failing that won't hold them back, as they can retest later," explained Lex Webb, BPSO Director of Youth Services / Commander Bossier Young Marines Program.
"The biggest misconception about Bossier Young Marines is that it is a diversion program, and it's not," Webb said. "Years ago, the youth diversion program and young Marines were together in one program, but they have since been separated as the Bossier Young Marines is not a punitive program."
Young Marines Program's Focus
The Young Marines Program's focus is character building, and the cornerstone of the program is the Young Marine's obligation, creed, and core values. The words, meaning, spirit, and intent are continuously stressed. There are weekend meetings and community service events. Other activities include two camping trips each year, hikes, and field trips to regional attractions such as museums.   
Another guiding principle of the Young Marines program is to expect all who uphold the Marine Corps core values of honor, courage, commitment, and the Young Marines core value of discipline, leadership, and teamwork.
The Bossier Young Marines is not a military recruiting organization, but each recruit will undergo basic recruit training for a minimum of 26 hours. 
During this time, the youth will have the opportunity to learn military history, customs and courtesies, close-order drills, physical fitness, rank structure, and other life skills subjects. They interact with caring adult mentors committed to providing them with a safe place to develop and grow, with particular emphasis on the love of God and fidelity to our country. Most importantly, the youth bonds and relates to other Young Marine recruits. 
Bossier Arts Council
(318) 741-8310 / www.bossierarts.org
The Bossier Arts Council puts on a variety of family-friendly events throughout the whole year. Its downtown headquarters house two galleries, a theater, classrooms, an arts business resource center, and private art studios.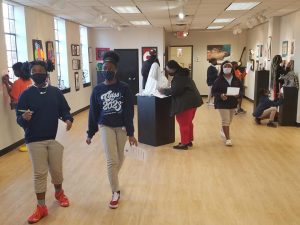 "One of our biggest programs is Digifest South which is in its 10th year," explained Robin Jones, Executive Director for BAC. "Digifest South brings Bossier/Caddo students to meet with local STEAM (Science, Technology, Engineering, Art, and Math) partners to showcase educational programs, college studies, and potential jobs in the area. It is an interactive field trip for over 4000 students in middle and high school."
BAC also hosts an annual Bossier Parish Student Art Show for art students in all of Bossier Schools. The show is aimed at teaching how to price and prep artwork for gallery display. The BAC awards cash prizes to the winners and matches a teacher prize for the winning students' teachers.
Bossier Arts Council Student Art Show Program
BAC also hosts an annual Bossier Parish Student Art Show for art students in all of Bossier Schools. The show is aimed at teaching how to price and prep artwork for gallery display. The BAC awards cash prizes to the winners and matches a teacher prize for the winning students' teachers.
While the pandemic has reduced activities or severely modified participation, some annual events are still as popular as ever. "The most popular programs at the BAC are the field trips," Jones said. "We have scavenger hunts in the galleries and allow kids time to sketch their favorite pieces. We teach gallery etiquette and ways to do art at home as well. "
Bossier Arts Council is a fantastic resource for children of all ages, young adults, and those young at heart. You can learn about various offerings both in person and virtually by visiting its website.
Bossier Parish Library
(318) 746-1693 www.bossierlibrary.org 
The Bossier Parish Library is a great resource for many things besides books. You can explore other programs throughout the year for kids to teens to adults. And you don't always have to be at one of the seven library branches to participate. Mandi Johnson is Associate Director of Community Engagement. She says there's a great mix of in-person and virtual options. "Right now, we have a lot of tutoring going on for children up to 12 years of age," Johnson explained. "We have Spanish language teachers who can help younger kids learn a foreign language, and for older kids, we have a virtual 'Dungeons and Dragons' virtual event held at one of our parish branches."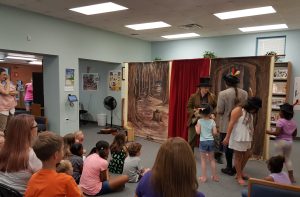 There are some in-person events at the local branches, such as Story Times. Currently, there are capacity limitations, but parents and kids can still participate online. "The good thing about Storytimes is that it has a long history nationwide, so it's pretty well established," Johnson said. "And parents like it as they get some opportunities to interact with other parents and socialize and their kids get to socialize with other kids, so it helps with social engagement that helps the learning process."
Bossier Parish Library Book Club
Book Club is a program geared more to teens as it deals with young adult books featuring subjects with which they can relate. Johnson says the books are about things younger people may be going through, so they get to discuss the book with other teens and to have honest conversations."While it's chaperoned, Book Club offers teens a safe place to share conversation and explore topics that are on their minds in their lives without fear or judgment of an adult," Johnson explained.
You can find something going on at the library by checking the calendar of easily accessed events through the website bossierlibrary.org/events. The online calendar is very user-friendly, and you can check for events by date and age group. 
There's also a free Bossier Library mobile app available on the Apple Store or Google Play for download.
Bossier Parish 4-H Club
(318) 965-2326 / www.lsuagcenter.com›bossier
4-H Club is a community of more than 6.5 million young people across America and is the largest youth organization in the United States. The Bossier 4-H program provides opportunities for young people to learn leadership, citizenship, and life skills and participate in fun, hands-on learning activities that encourage a sense of belonging among the youth. 
Louisiana 4-H reaches a diverse group of youth, grades K-12. Through non-formal, research-based, experiential learning activities, 4-H participants gain knowledge and life skills to become productive, capable, and compassionate members of their communities.
The four "H's" stand for:
Head for clearer thinking

Heart for greater loyalty

Hands for community service

Health for better living.
In its more than 100+ year history, 4-H clubs across America have developed a reputation for focusing on farm programs. Still, if you think the 4-H club is only about livestock and agriculture, you would be mistaken. "When kids first tell their parents they want to join 4-H, the parents tell them 'we're not buying a pig,' which is pretty common," explained Jeannie Crnkovic, an Extension Agent with the LSU-AgCenter who oversees the Bossier Parish 4-H Club. "The biggest misconception about Bossier 4-H Club is that we're only agriculture-based, but only 35 kids out of more than 900 kids in Bossier's 4-H have a livestock project this year."
Bossier Parish 4-H Programs
The programs range from woodworking, photography, fashion, foods and nutrition, cooking, public speaking, outdoor skills, sport shooting, community service, and much more. "This year's Bossier 4-H has 117 kids in shooting programs. Many participate in competitions ranging from muzzle loading to shotguns, rifles, and archery," Crnkovic said. "And they participate in local and state competitions, and some even go on to the national competitions."
4-H also helps with college costs as it offers scholarship money for graduated high school seniors who have demonstrated their citizenship, leadership, and community service and awards. High school seniors organize a portfolio to submit to 4-H for consideration for scholarships.
These are great if you are searching for on-going activities for your kids, but if you are looking for an afternoon of fun, check out 3 GREAT PLACES TO GO FOR SOME FAMILY FUN IN BOSSIER. If you are looking for a more adult adventure, check out BOSSIER PARISH AT NIGHT!