If you drive a few miles outside of Bossier City on Interstate 20, take Exit 33 to a little community known as Princeton. Though it is often considered or mistaken for Haughton, this community is different from many in Bossier Parish because of the town's history and businesses that have claimed the 71076 zip code for decades.
"[The Princeton] zip code consists of about 38 square miles with a population of around 3,300. Most of the landowners have passed the land down to other generations," Glenn Benton, Bossier Parish Police Juror for District 2, said. Benton loves talking about the Princeton community because he said he is "very proud of it" and of the growth to come.
"Work is in progress to build a top of the line baseball park to accommodate the youth in the area. The community worked for years to pay for the site and in 2008 the Parish took on the responsibility to complete the park for its citizens."
Another big draw to Princeton for most from Bossier City is Mahaffey Farms, a farm known widely for its selection of pasture-raised meats, eggs and naturally grown vegetables and herbs. Mahaffey Farms was "resurrected" by Evan McCommon in 2012. McCommon took over the family farm originated by his Uncle H.H. Mahaffey. With a mission to "cultivate 318," this farm has been vital to many businesses and restaurants in the Shreveport-Bossier City area. In fact, most of the restaurants in Shreveport and Bossier City use products on the menu from the Princeton farm. McCommon said Mahaffey Farms grew in popularity by selling products at the Shreveport Farmers Market.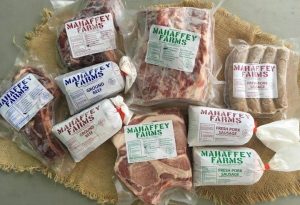 "[When businesses use our products] it makes us feel like we are making progress and have a bigger future with the products that we cultivate on the farm," McCommon said. Mahaffey meats are featured at local restaurants such as El Cabo Verde, Frank's Pizza Napoletana and Fat Calf Boucherie.
And if you are living in the Princeton community, expect to see more of Mahaffey Farms. Expansion is on the horizon for the farm. Recently, the McCommon and his wife purchased the land adjacent to the farm expanding their territory in Haughton. With this expansion, McCommon hopes to offer different products.
"We want to focus on the Southern staples and offer purple hull peas, collard greens, sweet potatoes and brassicas," he said. "With the additional land we will be right off of Highway 80. Our hope is to have a more accessible farm store."
But growth isn't just for Mahaffey Farms, Benton said an effort to clean up the environment in Princeton has produced a beautiful green space in the area. He expects to see more businesses moving to Princeton because there are lots available for commercial development with both railway and four-lane highways for transportation.