Who wants to live more than ten minutes away from a Target or a Chik-fil-A? Turns out, quite a few people in our parish enjoy living their lives in the smaller towns that help make up the outskirts of Bossier Parish. From Princeton to Plain Dealing and back to Haughton, these small town communities provide a simpler way of life for the people who reside there.
For Sean and Susan Durbin, living in Princeton was an easy choice. Sean was born there and that's where they raised their family together since 1995. When asked why she loved living in Princeton, Susan explained that she felt a "small town sense of safety. You know your neighbors, postal people. You're on a first name basis with everyone and you know immediately if strangers are around and if something odd is going on". Frequenting Mahaffey Farms and chowing down on all of the fresh, organic meats it offers is another big reason the Durbins appreciate Princeton. Good meat. Great people. What's not to love?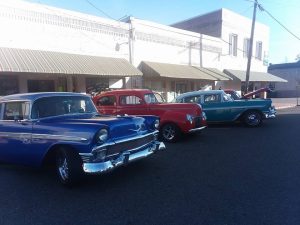 If you have ever wondered anything at all about that little town bordering Arkansas, Rhonda Lyles can probably answer all of your questions. Both she and her husband were born and raised in Plain Dealing and it's where they have made a lifetime of memories with family and friends. Rhonda was quick to list the great schools, golf course, and Plain Dealing lake as just a few of the reasons her family will always live there. She also mentioned that their small town is not as tiny as one may assume; Plain Dealing has several restaurants, antique shops and gift shops that bring in visitors from all over the area. I also found out that this quaint little town is quickly becoming a hot spot for local couples to retire. As soon as a house comes up for rent or sale, it's off the market. It seems like people are discovering all of the amazing things about Plain Dealing the Lyles family has known for years.
When your grandmother uses multiple family gatherings over the years as an opportunity to remind you that she was Haughton High School's first prom queen, you know you have some roots in Haughton. According to Lindsay Small, the connections between families are endless so you are always running into someone you or your family know. Lindsay may have grown up in Bossier, but she went to church in Haughton, and her family and her husband's family are all from there as well. Deciding where they were going to raise their family was no question for the Smalls.
From the get go, Lindsay and her husband, Justin Small, knew when opening a small business in their beloved town that they wanted to use it to give back to the community however they could. Haughton is growing, but it's still modest enough in size that the Smalls are often asked to mentor local high school students for their senior projects. Referring to a recent negative review their Anytime Fitness location received on social media that was reported within five minutes of being posted, Lindsay jokingly said, "We may all talk about each other, but we really have each other's backs".
Whether you're a big city dweller or a small town settler, you can a find reason to visit one of Bossier's rural towns. Each area has its own proud residents, unique shops and delicious hometown eats. Wander through, and I have a feeling you will be welcomed with a sweet Southern smile.