The Bossier Parish Community College Theatre Program and the Cavalier Players announce the next show in their season, "Rumors." This hilarious farce is written by Neil Simon, Tony-award winning American playwright who has written comedy hits such as "Barefoot in the Park," "Lost in Yonkers," and "Brighton Beach Memoirs" in addition to others.
BPCC Theatre's production of "Rumors" is directed by Dr. Ray Scott Crawford, Dean of Communication and Performing Arts. He says the play is a mix of a romantic-dark comical farce that begins with the discovery of a shooting victim.
"It all begins as three couples who are invited to a 10th year anniversary dinner party arrive to find the host is on the floor unconscious with a bullet hole in him," explains Crawford. "The wife's gone, the servants are missing and because the host is Deputy Mayor of New York, the dinner guests are trying to hide this from the police to avoid a major scandal."
The evening takes all sorts of twists and turns as one-by-one, each person has a different version of a made-up story to tell the police, which as Crawford explains, add interesting revelations to other characters.
"They even start to believe the stories they fabricate which expose certain tensions underlying romantic affairs that have been going on between the missing people. These revelations add to the comedy and mystery."
Rumors is a full-featured stage production comprised of 10 student actors in the cast and support from 30 others who handle everything from stage, costumes, props, lighting and more. Two of the student-actors are Annie Barker from Covington, Louisiana and Michael Davis from Harrisburg, Pennsylvania. They play a married couple who first arrive to discover the tragic scene. Davis plays Ken Gorman, the injured man's lawyer, he and wife Chris must get "the story" straight before the other guests arrive. Barker plays Chris Gorman; she says the play is certain to be a crowd-pleaser.
"This is a Neil Simon play so you know by his reputation that the writing's good, the characters are going to be witty and funny so everyone can expect a good show," Barker said.
Davis, her stage-husband, agrees.
"It's a lot of fun," Davis said. "My character thinks he's a know-it-all and a controlling person who has a hard time coping as little by little, he begins to lose all control during the course of the evening."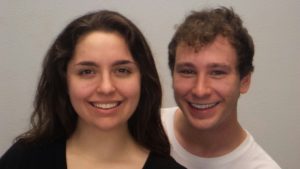 Both Barker and Davis are theater majors and say the BPCC Theater program has given them several opportunities to grow both academically and personally.
"I was originally a music major but transferred to BPCC and changed majors," explains Barker. "I've been in five performances at BPCC and it has really allowed me to grow not, only as a student, but as a person."
Davis adds, "I've gotten opportunities here that I wouldn't have gotten anywhere else. I'm confident that I'm building my career with what I'm doing here."
As to what the future holds, Barker plans to go further in the field of theater.
"I plan to pursue something in theater or the entertainment business in general."
Davis says his career thoughts have him leaning less towards acting.
"I feel more interested in things like costuming, stage management and stuff behind-the-scenes."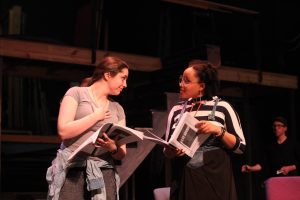 You can see both Barker and Davis along with fellow cast members in Neil Simon's "Rumors." Performances are set for 7:30 p.m. on April 12, 13, 14, 19, 20, 21 as well as at 2:00 p.m. on April 15 and April 22 in the Stephen W. Slaughter Theatre in Building C on the BPCC campus (6220 East Texas Street).
You can purchase tickets for, "Rumors" by calling (318) 678-6021 or by visiting their website.