Bossier is blessed with a growing, thriving business community and the lifeblood of that is the people who make all these institutions run. But what makes them feel special? Why do they keep coming into work on-time, day after day?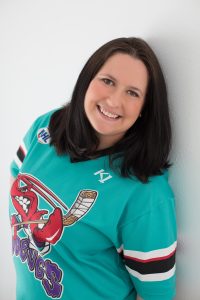 Let's meet one of these workers who is proud to work at a Bossier-based business and find out.
Kimberly Sepeda, 35, works in the Loan Servicing Department at Citizens National Bank. The mother of three and wife to Chris Sepeda lives in Princeton and has been with Citizens National Bank for four years. She said "time really flies when you are having fun!"
Let's find out more about why she loves her job…
1. What do you do at Citizens National Bank?
I have done a variety of things — everything from insurance tracking, collateral and mortgage releases to escrow and entering loan information for starters. I enjoy learning and growing within the company.
2. Why did you want to work at CNB?
I had two former coworkers from my previous job move over to Citizens National Bank and they would come visit and just rave about how awesome it was to work there. Everyone I talked to said the same thing. So I HAD to try to be a part of that. As hard as it was to get here, I know why. Once you are here, rarely do you want to leave. The bank loves to promote from within, so it is pretty difficult to get your foot in the door unless you have that special something that our bank shares.
3. What is your favorite thing about working there?
Citizens focuses on relationships. Relationships with both their employees and customers. Also, one of my other favorite things about being here is that our CEO Jason Smith and other executives are accessible at any time.
4. What does CNB do for its employees that makes you feel appreciated?
Citizens goes above and beyond to make sure that we feel valued as employees. From as small as sending donuts to the different departments or as big as our Employee Appreciation Day celebration, they make sure to focus on the "cogs" that help keep this bank as great as it is. Also Jason loves to send us emails from time to time to tell us how much he appreciates us or to shine light on something awesome someone did here. It is so nice to feel appreciated for literally everything that you do.
5. Is there anything about the culture or benefits of your job that sets it apart from other jobs you've held?
Everything is different here than anywhere else I have ever been. We are a true FAMILY here. If one is down, you have a whole group to pick you back up. For example, when we lost my father-in-law I had my direct supervisor, Carole Mitchell, numerous co-workers, and even Tommy Boggs — who is one of the Executive Vice Presidents — come to the visitation to make sure that our family didn't need for anything. This is not because I am a "somebody" here at the bank, it is because everyone here is a family and that is what they do. As we grow, we keep that uniqueness about us and I love that more than anything.
6. What would you want other people to know about your workplace?
We have fun, we work hard, we care harder, and to me, that is what has helped us be successful on top of all of the other behind the scenes duties. I am proud to be a part of a community bank that has been in this area for over 30 years and we are still continuing to grow and compete with the larger chain banks. We are so ingrained with the community that very rarely have I run into anyone that doesn't know who we are and what we are about. That is special in itself.
For more info on Citizens National Bank, you can visit their site or any of their Bossier locations.