Haughton's Star Donuts is a little donut shop with glowing Google reviews and the rarity of a boudin kolache. But the bakery, tucked away on 4615 US Hwy. 80, has a much deeper and more inspirational story waiting for its visitors.
Owner Steve Chhim is an entrepreneur and immigrant who escaped horrors many people couldn't even conceive, and now gladly works 16-hour days supporting his elderly parents. That devotion dates back to a three-year period in 1975 where he and his family were split up and served in a Cambodian concentration camp.
"Everyone thought we were already dead," said Chhim. "We didn't have anything to lose."
As part of the civil war against the country's dictator, Pol Pot, Chhim and the rest of his family — his brothers, sisters, mother and father — were all shipped off to the jungles of Cambodia, which became known as the Killing Fields.
"We all survived however we could," he shrugged.
The country's genocide eventually saw 1.5 to 3 million Cambodians die before Vietnamese soldiers stormed the country's border in 1979 and overran Pol Pot's Khmer Rouge regime.
That same year, Chhim escaped and was found by his mother wandering the streets at the age of nine. A year later, his family located his father in another city and they walked to the border of Thailand in order to get to the Red Cross. Chhim says his aunt, who worked for an American ambassador, found their names on a poster and sponsored them in order to get the family to the U.S.
"God blessed us and brought us to America. Then we started working, working, working," he added.
They all ended up in Beaumont, Texas, what seemed lightyears away from the pain and suffering of his homeland. And although he had escaped tremendous hardships, Chhim had a new difficulty in learning a different language and starting a career.
"I had a problem with English and people looked down on me because I was different," he said.
Little did Chhim know that a breakfast treat would change his path in life. He bounced around Beaumont and Houston before ending up in Dallas, where he learned to make donuts.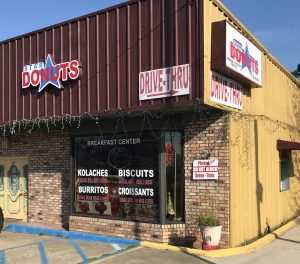 "I met a guy who made donuts. I saw that he made his own living, was his own boss. I thought, 'I want to be like him.' I asked him to help me and show me how to do it," said Chhim. "I learned that it's important in America to have good food. So I took his recipe and made it my own."
He relocated to Bossier, where he worked for another donut shop before it was eventually sold and Chhim found himself out of a job. It's at this point that he received another blessing in the form of customers.
Haughton residents, he identified as Marilyn and Joe, helped him finance and build his own donut shop.
"They didn't know us, they were just regular customers. Marilyn told me that if I wanted to do my own store, she would find us a place, and I told her, 'But I don't have any money,' and she said, 'Don't worry about that. We'll take care of you.'"
Chhim said it all came down to God, explaining, "I feel like it was God working on us. God is like the wind. If you believe in it, one day you will feel it."
In fact, his faith is reflected in the restaurant's name.
"Jesus is above us. So we thought, 'What's close to Jesus?' So we came up with stars and that's where the name comes from."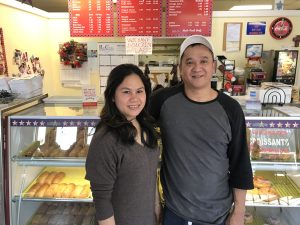 Chhim and his wife, Phalla, have been plugging away for eight years, always keeping emphasis on good food, a clean restaurant and sterling customer service. Chhim points out there are many donut shops throughout Bossier, but they make sure to treat their customers "just like family."
"We always smile," Chhim said proudly. "The customer is always right. It's important to make the customer feel good because they support us."
"Everybody is like a friend to me — they're always here to help. God has given me a good life."
Location: 4615 US-80, Haughton, LA 71037
Hours: Monday-Sunday 5 a.m. to 1 p.m.