Whether you're looking to move to Bossier or you're a longtime resident, it's never too late to get connected with a local faith-based community. In addition to fulfilling spiritual needs for residents, places of worship also offer a chance to build a sense of camaraderie and connect with the local community. Nestled firmly in the Bible Belt, Bossier City has a bevy of churches to choose from. It's not exactly a secret that sometimes too many choices can complicate the decision-making process, so, in light of that, we've compiled a short list of several local places of worship that may well be exactly what you're looking for.
Asbury United Methodist Church
Located on the bustling Airline Drive, Asbury United Methodist Church offers both traditional and contemporary Sunday services. Their mission statement is "to make disciples of Jesus Christ for the transformation of the world." The fulfillment of this statement plays out in a number of ways, with the church focusing on education of members and community outreach as two prominent methods of ministry.
On Sundays, Asbury holds both a traditional and contemporary service at 8:30 a.m. and 10:45 a.m., respectively. Childcare is available during both services in the form of Children's Church and a Nursery. Additionally, Asbury offers small group meet-ups and Bible studies along with Wednesday night connection classes. The range of events available make it easy for newcomers to jump in and participate or hang back for a while to get the lay of the land.
On the mission-end of things, Asbury is dedicated to local, national and international work. On a local level, the Asbury Arts program jumps out as a unique ministry. It is currently a work-in-progress, with the dream being to build a full-fledged arts outreach program for youth in the area. They also have a ministry called Katy Build, where they build houses for those in need.
For a full rundown of Asbury Methodist's missions and services, check out their website.
Simple Church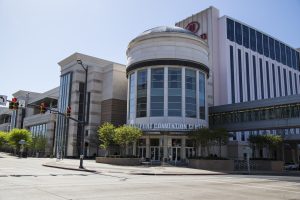 This non-denominational church has offices in Bossier City, but meeting places have varied over the years. They began as a theater church in the Regal 9 Cinema in Bossier, but have since moved to holding services at the Shreveport Convention Center in downtown Shreveport. They hold large events, like their Easter Celebration, at the Century Link Center and offer a livestream of their services through their website and Facebook page.
The Simple Church's mission statement reads, "Designated by the simplicity even in our name, The Simple Church exists for those of us who are tired of religion getting in the way of knowing who God is. We exist to make a place for all walks of life to come together for support, relationships, help, and most importantly, to answer questions about a God who loves us."
They're a relatively young church, founded in mid-2007, and since then they've grown a substantial church body and influence in the Shreveport-Bossier area. The Simple Church contributes to missions and outreach nationally and internationally while also maintaining focus on local needs.
"Our number one mission and statement is to love God and love people," said Christi Rhodes, Administrative Assistant for the church.
She went on to emphasize the importance of community outreach, saying, "We're all about the community…we shut down church about four times a year and encourage our church members to go into the community. We work on community projects and that's 100% what we're about is giving back, and giving back to our community."
The church tries not to single out newcomers, preferring to let people come as they are and engage on their own terms when, and if, they decide they want to.
"Every Sunday is somebody's first Sunday, so we just want to make sure we create an environment where people are comfortable," said Rhodes.
For more info on Simple Church, you can visit their website.
St. Jude Roman Catholic Church
Founded in 1964, St. Jude Roman Catholic Church is a longstanding staple of Bossier. Located in Benton, St. Jude promotes itself as "A Beacon of Faith, Hope, and Love." Catholics new to the area can attend mass at 5 PM on Saturday, or attend one of two Sunday mass services held at 8:30 a.m. and 11:15 a.m. They also have active small group meetings, Bible studies and other events designed to help Parishioners connect with one another through faith.
"We are considered one of the most welcoming churches in the area," said Gwen Stuart, Director of Music and Liturgy. "People are always pleasantly surprised."
Energetic and friendly, St. Jude keeps a busy calendar.
"There's rarely a night where there isn't something going on," said Stuart. "A lot of times in the Catholic church people think that [Parishioners] just come to mass, check their boxes, and leave, but at St. Jude there's really a sense of ownership of the church, and of our faith. People want to be involved. They want to know their faith."
She credits this involvement, at least in part, to the success of the ACTS retreats the church holds, "[they] help people with whatever stage they're in. If they're new, if they've been there for a while, it gives them a chance to be a little more involved in the community."
Robust youth and children's ministries make this a perfect fit for families, and the Mother's Day Out ministry offers tired or busy parents a chance to get things done (or squeeze in a nap) while their children are placed in a class that engages in age-appropriate activities and education.
St. Jude also has an extremely active charitable presence in the community. Their involvement extends to organizations such as Habitat for Humanity and the St. Vincent de Paul Society. Recently, they've begun a new outreach called Embrace Grace that works to help young, single women facing an unplanned pregnancy.
For a full rundown of their outreach initiatives, you can visit their website.
Bellaire Baptist Church
Bellaire Baptist Church has two campuses in Bossier City, but both promote the church's fundamental message, which their website says is "reaching people with the life changing Gospel of Jesus and teaching and equipping them to become fully devoted followers of Christ."
This church offers a traditional service at 8:15 a.m. on Sundays, along with a contemporary service that takes place at 10:00 a.m. They also offer weekly Wednesday night Bible Studies at 6:30 p.m. Additionally, the church has LifeGroups composed of 8-15 members, which allow new and longtime attendees the chance to connect with one another on a more personal level as they grow in discipleship.
Their services are available for streaming online. As an added feature, they've made a chatbox available for the online audience to speak with one another while viewing. They also have a backlog of past sermons available, allowing members to catch up on what they've missed.
A quick perusal of their complete calendar shows that Bellaire is a bustling hub of activity. They have frequent events for children, teens, adults, and seniors alike. Bellaire has its own counseling center with licensed counselors available to help members work through whatever challenges they may be facing. Through the center, they offer support groups such as Alcoholics Anonymous and Divorce Care.
For more information on Bellaire Baptist, you can check out their website.
Masjid Alnoor
Masjid Alnoor is an Islamic Mosque located right off the interstate in Bossier City. Their sign expresses the values of "peace, love, and forgiveness." They encourage people to "Come in and learn about the real Islam."
It is part of the Islamic Association of Greater Shreveport, and aims to provide "religious, social, and educational activities from the greater Muslim community in Northwestern Louisiana." They have a Facebook page as well as a regular website that readily offers information for interested parties. This includes updates about events, prayer times and holy days.
In 2010, Masjid Alnoor opened the Al Noor Islamic Sunday School. The school focuses on helping children explore and grow in their Muslim identity. They focus on teaching the Arabic Language, the Qur'an and basic Islamic teachings through hands on activities and games. The school is open for children as young as Pre-K and extends to the high school level.
For more information about Masjid Alnoor, visit their website.
Wat Buddhasamakeevanaram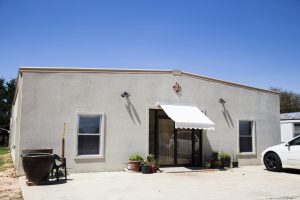 The only Buddhist Temple in Bossier City, Wat Buddhasamakeevanaram has a steadily growing presence in the area. Their location is somewhat off the beaten path, but the country roads make for a peaceful drive. Additionally, they offer events for the community, such as meditation, at locations closer to the Shreveport-Bossier area.
The Temple holds public meditation sessions and observes traditional Buddhist holidays. Buddhists in the area are able to attend and connect with one another.
For more information, you can visit their Facebook page.
Are you moving to Bossier and you're looking for more information on our great parish? Check out our "Move to Bossier" category to read our blogs on school enrollment, finding jobs and more!