With more than 22,200 students attending Bossier Schools, the school district is one of the fastest growing districts in Louisiana in enrollment and performance. That's why it is so important to hire new teachers that can keep up with the demand.
On Thursday, July 26 at 11:30 a.m. in the BPCC gym, Bossier welcomed over 165 new teachers at a luncheon hosted by the Bossier Chamber and sponsors Barksdale Federal Credit Union, Johnson's Furniture and Mattress Gallery, Cyber Innovation Center and Breathe America. These teachers got to hear remarks from Superintendent for Bossier Parish Schools Scott Smith, Bossier Chamber of Commerce President Lisa Johnson and Bossier Youth Leadership committee member Bonnie Dubin.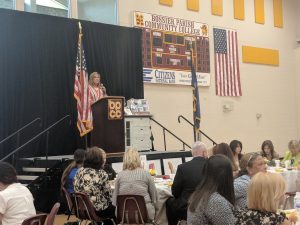 Dubin gave a talk on the 5 things that make a great teacher. She used pictures of items to illustrate the qualities that a great teacher should have. Among these things Dubin listed a rubber band for flexibility, a mirror for reflection, an eraser for erasing mistakes, a key for unlocking potential and a puzzle piece for working together. She says each teacher should work with their staff to help better the students' learning experience.
"Collaborating together is very very important."
New Opportunities
Among the new teachers was Rachel Smelley. This school year she will be teaching 3rd grade at Haughton Elementary. She is excited for the new opportunity.
"I'm most looking forward to the fact that we are a new school, so it is an opportunity to lay a new path. All the students are coming from different areas in Haughton and it'll be nice to see how they interact with each other. I'm also excited to work with the people at Haughton Elementary because I know how great the administration is."
Smelley says her goal for the year is to be as intentional with her students as she can. She hopes that parents will take advantage of the resources that are available to them.
"My tip for parents would be to get as involved as possible and to use the resources that are available to them."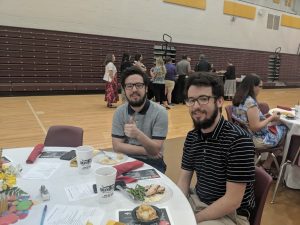 Kevin Gallion will be teaching 4th grade math at Meadow View Elementary and he agrees that parents should get involved in their child's learning. He says the parents are the foundation. He hopes he can be a good role model for his students.
"Teachers were my role models growing up," Gallion said. "I didn't really spend a lot of time with my parents, so teachers were my role models. I hope I can help each kid reach their potential."
The Grand Prize
At the luncheon, many teachers also walked away with amazing door prizes from sponsors called New Teacher Supporters.
Farryn Cooper, new teacher at Parkway High School, walked away with the largest prize at the luncheon. She got a classroom set of laptops for her students. She is excited to teach English II this year.
"I'm super excited about these computers," Cooper said. "This will be an awesome asset for the classroom. These are really going to help them get their assignments done."
If Cooper could give one tip to parents it would be for them to stay in constant communication with their child's teacher. She said they shouldn't hesitate to reach out this school year.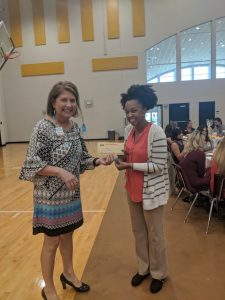 "A lot of parents are scared to contact teachers, but I love talking to parents. I encourage parents to not be afraid to reach out to their child's teacher."
The new teachers also got to hear words of encouragement from Superintendent Smith. He reminded them to show enthusiasm as they step into their new roles.
"Enthusiasm is the key and it will benefit the children of the Bossier Parish School System."