Your child's birthday is one of the most important milestones for them when they're growing up and you'll want to make it a fun memory for them to always cherish. Having trouble finding a place they'll enjoy? No worries, we are here to help you find some unique places to have your kid's birthday party in Bossier Parish.
1. Children's Escape Spa
For all the daughters out there that would love to be a princess for a day, Children's Escape Spa is the perfect place to do that! Located in the Pierre Bossier Mall, your little girl will have the time of her life being pampered by one of the wonderful Spa Associates. They offer vanilla scented facials, hair, makeup and mani-pedi's. During the spa service they also get to wear robes and flip flops while they get pampered.
Children's Escape Spa is the one-stop shop for a birthday princess and all her friends. Choose between their two party packages so they can bring some guests or choose a day package just for her!
Want to make a reservation? Visit their website to fill out the easy information form or call the business at (318)-752-9001 to make your reservation.
Location: Pierre Bossier Mall, 2950 E. Texas Street, Bossier City
2. Chuck E. Cheese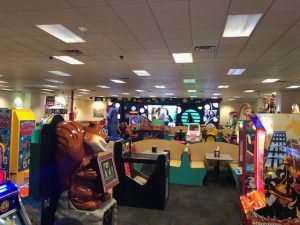 Locally owned and operated, this is the place for an endlessly fun arcade experience for children of all ages! Chuck E. Cheese offers several different party packages to work with any parents' budget and party size. Made-to-order pizzas, delicious dessert, a salad bar, unlimited drinks, decorations and a goodie bag for each child are all included in the available packages. Children can enjoy tons of arcade-style games, interactive activities and win ticket to exchange for prizes at the gift shop! Chuck E. Cheese offers an experience for the whole family to love.
Local Bossier Mom, Erin Kennedy, had her daughter's birthday here and they had a great experience.
"The kids really loved all the exciting games and the fun show with Chuck E. Cheese. The food was really good, and everything was very easy for us parents to enjoy the party, too."
If you'd like to make a reservation, you can visit their website to read about each package Chuck E. Cheese's has to offer and follow the easy, step by step form to book your child's next party! Feel free to call the facility at (318)-742-4400 to book your party over the phone or if you need anymore information.
Location: 2515 Viking Drive, Bossier City
3. Build-A-Bear Workshop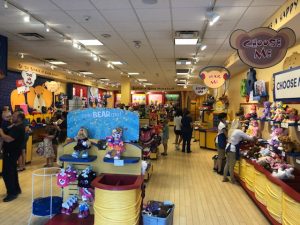 If you're looking to throw your child a party to create something they can have for years to come, then Build-A-Bear workshop is the place for that! Conveniently located at The Louisiana Boardwalk, Build-A-Bear Workshop will give you, your child and their friends a party to remember.
With five birthday packages to choose from to fit your budget, your kiddos are bound to enjoy every moment of making their very own furry friend to keep forever! The kids can choose whatever teddy bear or special stuffed animal that falls in the chosen party package's price to stuff and dress up however they want.
They can enjoy party games and fun-filled activities with their very own Party Leader. Interested in a themed party like princesses or sports? Let the Party Planners know and make it an even more unique experience!
Ready to book your child's party? Call your nearest location, visit their website or call toll free at 1-877-789-2327 to speak to a Party Planner.
Location: 425 Boardwalk Blvd, Bossier City
4. The Hitchin' Post
If you're looking for an outdoors experience with lots of space, The Hitchin' Post may be the perfect spot to hold your child's next birthday party. Located in Benton right outside of North Bossier, The Hitchin' Post is not only used to create rustic, country-style weddings, but it can also be used for birthday parties! The Hitchin' Post offers a large, renovated barn with tons of space for tables, people, gifts, food and so on. It's located in the backyard of a local Benton family on a huge horse pasture offering lots of open grassy areas for parking, outdoor games and activities, or bouncy houses.
Feel free to get creative and take advantage of the space by choosing your own theme, activities and decorations. Kids will love the opportunity to run around, play and get dirty 'til it's time to head home!
Worried about the weather? Don't be! The barn has four entry doors than can easily be shut for an enclosed party inside the barn, that way you still get the feel of an outdoor party without worrying about the rain! The owners are happy to help in any way to make it the experience you've always wanted for your children. The lovely couple even has their own catering business and would love to provide the food for your party at very affordable prices.
"It's super cute out there! There's plenty of space if you'd want to have activity stations. My daughter loved running around everywhere," said Emily Perrodin, local Mom who held her daughter's first birthday party at The Hitchin' Post.
If you're interested in booking your child's birthday party at The Hitchin' Post, please contact Janice Ross by phone at (318) 347-1826 or email at jjross1826.com. For more information about the venue, please visit their website.
Location: 186 Kingston Road, Benton