It comes as no surprise that business owners are choosing Bossier – one of the fastest-growing cities in Louisiana. New businesses range from wrestling – BBQ combinations to axe throwing (yes, axe throwing) and well-known franchises to family-owned startups. The New Year is already showing signs of this trend continuing with a variety of new businesses opening their doors. Here are a few Bossier Parish businesses to enjoy in 2019.
Uneeda Taco
Location: 4200 Airline Dr. Suite 100
Owners: Danielle and Joey Trejo
It started as an ongoing joke between two Bossier City natives. The dated "Uneeda Biscuit" building in downtown Shreveport became inspiration for a business name with husband and wife team Danielle and Joey Trejo. The play on words are what the two used to name their highly successful taco truck, Uneeda Taco.
Owner Danielle mentions why the pair felt a brick and mortar location was their next step in business.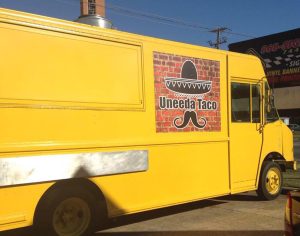 "We needed more stability with our income and we also felt that we could do well here because the food truck always did so well here. We noticed that the residents here would stand in the hot sun or even cold rain to get food from us, which always blew us away," she says.
Trejo says what sets them apart from other Mexican restaurants is the wide variety of tacos on the menu as well as their homemade sauces. They especially take pride in their special taco with jerk chicken and pineapples.
"We strive to offer so many. Joey felt that would be the key to our success!"
As for the name, the "Need" in Uneeda also doubles as part of their business mission to give back by donating food to local ministries twice a month. Uneeda Taco on Airline opened for business in December 2018.
The Dental Studio
Location: 4705 Palmetto Rd. #C Benton
Owner: McKenzie Holloway
The Dental Studio is a dream come true for Bossier native and business owner, McKenzie Holloway.
"I always wanted to own my own dental practice since I was in middle school," she says.
The business offers everyday dental services from cleanings to root canals but also Botox to teeth beautification services including veneers to implants.
"Our main focus is to change the way you feel about the dentist," says Holloway. "We want you to laugh and have a little fun. We never want you to be scared of coming to the dentist. I know you will see the difference when you come to our office!"
The Dental Studio opened for business January.
Dogwarts Daycare and Boarding
Location: 1303 Driftwood Drive, Bossier City, LA 71111
Owners: Kayla and Steven Cowan
What do you get when you mix a super comic fan with a lifelong love for dogs? Dogwarts. The play on words from the wizard school Hogwarts in Harry Potter was the inspiration behind this dog daycare and boarding business.
The father-daughter team takes pride in fulfilling a dream.
"It has been a dream of mine for years after being employed at one of the largest doggy daycare facilities in the Houston, Texas area," says co-owner Kayla Cowan. "I studied Biology Animal tract at ETBU in Marshall and originally planned to work with wild life rehabilitation. However, after moving to Houston I found where my skills were definitely with reading dog body language and understanding their communication."
Cowan was raised in Texas and now calls Bossier home.
"We looked at many different surrounding areas such as Shreveport, Greenwood and even Waskom, Texas. Bossier, however, was closer to some of the clients that I have previously worked with while caring for their fur babies," she says.
Dogwarts Daycare and Boarding started accepting new four-legged clients in January.
PJ's Coffee of New Orleans Bossier City
Location: 2119 Airline Dr. Suite 100
Owners: Brandy and George Craft
This Louisiana based company has more than 100 locations. Brandy Craft is a new franchisee of the chain. This is the first PJ's Coffee location for Bossier.
The husband and wife team purchased the franchise in October of 2017 and celebrated their Bossier opening with a ribbon cutting ceremony in January 2019. Craft's love of coffee began at a young age.
"My grandmother served me milk coffee every time I asked for it and then I fell in love with quality of PJ's Coffee when visiting New Orleans as an adult," she says. "When researching PJ's it was important to me to be part of a company that aligned with my values and goals. I am very family oriented so it was important to keep that."
Craft is native to Louisiana but only became a resident to Bossier Parish five years ago. She says she became frustrated that her only coffee option was Starbucks so she would order PJ's online in bulk to have the taste she craved. This, along with her lifelong dream to own a business, made opening PJ's the perfect combination.
"I graduated with a Business Administration degree knowing that one day I would do whatever it took to own my own business," says Craft.
According to Craft, their most popular item is Granita or Southern Pecan coffee. Craft currently resides with her family in Benton.
Jerry Lawler's Memphis BBQ
Location: 6845 Hwy 3 Benton, LA 71006
Owner: Michael Pierce
Wrestling fans get ready, the King is coming to Bossier Parish! Famed wrestler Jerry Lawler has given local business owner, Michael Pierce, the blessing of being his newest franchise owner.
Pierce is a transplant of 20+ years after serving in the Marine Corps. He was led to Bossier for love and worked 19 combined years for the Bossier City Police Department and the Bossier Parish Sheriffs Office. As a retiree from a career of serving the public, he's excited to engage the public in a different way.
"I never thought I'd be doing this," he says. "I've been trained to deal with the public so why not use those skills to serve them and watch them enjoy really good BBQ."
The restaurant and all its decor is said to make you feel like you're in the ring. From the steel chairs to the Slamwich's offered on the menu.
"This is definitely a good fit for me. I was a huge wrestling fan as a kid so opening this franchise rekindles a lot of good memories," Pierce adds.
Jerry Lawler's Memphis BBQ is on schedule to open its Benton location in mid February. Pierce says an appearance by "The King" himself is planned for the grand opening.
Bayou Axe Co.
Location: 509 Barksdale Blvd. Bossier City, LA 71111
Owners: Geno Goodman and Doug Rodgers
Have you ever thought about throwing an axe for recreation? Maybe in a league? For two Bossier couples, the sport was infectious.
"We played Topgolf in Dallas and right next door was an axe throwing place," said Jennifer Goodman, wife of owner Geno Goodman. "We had so much fun there and thought Bossier-Shreveport needs this."
Goodman says the entire ride home from Dallas in July 2018, the couples discussed opening their own axe throwing business – and acted quickly.
"Once we got back into the area we didn't even go home. We just drove around looking at potential buildings," she says.
But the perfect location was in a growing area of Bossier City. As the 20X49 blog's Chris Jay reported in December, the Bayou Axe Company will be located next to BeauxJax Crafthouse.
"We really wanted to be in the East Bank District because it's starting to grow and the vibe is really cool with all the old buildings."
Goodman says they also took the walking traffic and open-carry law into consideration when choosing their location. One thing Goodman wants to make clear is the business is not a bar and compared it to a venue like a bowling alley or batting cage. She says there are ten lanes and arcade games. The environment is more structured and safe than some are lead to believe.
"You have to be 12 and up to enter, you can only wear closed toe shoes and everyone signs a waiver to get in the door."
Even though they're not a bar, alcohol is not off limits. Goodman explains customers are welcome to bring in alcoholic beverages from businesses within the district and eventually they will have their own liquor license.
Anyone is welcome to bring their own axe, host parties and enjoy live music on Friday nights. Bayou Axe Co. will open within the first two weeks of February.
Main Squeeze
Location: 2114 Airline Dr.
Owners: Kurt & Caroline Nixon
Main Squeeze wants to be your "main squeeze" when it comes to cold-pressed juices, acai bowls and superfood smoothies.
This fairly new and quickly growing franchise built their first store in Lake Charles, LA in 2016. There are now dozens of locations across south Louisiana, Texas and now its first north Louisiana store in Bossier City thanks to husband-wife team Kurt and Caroline Nixon.
"The product tastes amazing and there is nothing like it in town. There is nowhere in town where I can get up to seven pounds of produce that taste so good so quick," explains Kurt Nixon. "I wanted to bring something to town that my wife felt good about bringing my five kids to for lunch or a snack."
When asked what makes Main Squeeze different from juice bars, Nixon says, "They can expect an amazing tasting and healthy alternative for fast food. They can expect prompt service in a clean, welcoming environment."
Nixon says the decision to start his business in Bossier "was easy."
"Bossier is my home. I was born and raised here. Bossier is awesome."
Main Squeeze will open sometime in March 2019.
Other businesses to visit or keep your eye on:
Happy's Nutrition
4012 Benton Road, Suite 106, Bossier City
Opened December 2018
Herbalife Nutrition Club
Harbor Freight Tools
2001 Airline Drive #135
Opened December 2018
YoungWilliams
Louisiana Boardwalk
Opens March 2019
Call Center that helps guide parents through the child support system and help find resources to provide financial, medical and emotional support to their children. They're bringing 80 new jobs to the area.