If you are new to Bossier, one of the most important things to remember around Mardi Gras is your pet can participate too. In fact Bossier City is the location for the largest pet parade's in the nation.
The Krewe of Barkus and Meoux celebrated its twentieth parade with a SteamPunk theme. All different breeds of dogs and cats attended the annual parade on Feb. 24 at Reeves Marine. Animal owners from Bossier, and even Shreveport, crossed over bridges to check out the krewe's parade and party.
"This is definitely a family friendly event. There are so many pets here. It's an easy event to attend and have a good time," Sam Kall said, with his white fluffy dog Dixie dressed up by his side.
Last year Kall said he didn't wear a costume, however this year he decided to wear his Batman costume and dress Dixie the same.
Though some pets and owners went with a superhero theme (Wonder Woman was also spotted as a toy Poodle), others chose to stick to the Steam Punk Pups and Futuristic Feline theme – well mainly the pups did. The only cat spotted was Queen Spike, of the royal court. This feline chose to present herself in a Mardi Gras fluffy boa and stayed calmly in her owner's arms, above the pups below her.
After 1 p.m., the twentieth royal court was brought to the stage and recognized.
Here are the names of the new royal court of the Krewe of Barkus and Meoux XX:
Grand Marshal: Margeaux Morgan
Captain: David Frye
Co-Captain: Daphne Childress
King: Keith Woods
Queen: Jean Johnson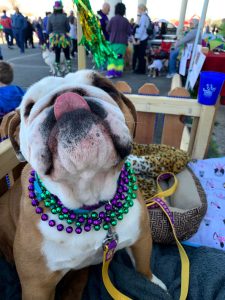 Duke of Barkus and Meoux: Alex Anderson
Duchess of Barkus and Meoux: Loraine Guerrero
Duke of Furry Friends: Kenneth Pierson
Duchess of Furry Friends: Hannah 'Ginger' Fletcher
Prince: Taylor Guerrero
Princess: Hannah Guerrero
A special honor was presented to Grand Marshal Margeaux Morgan, the pet of Christine Morgan.
"This dog is so special and she is a hero," she said.
Her dog was shot five times when a burglar entered her Shreveport home in 2017. While Margeaux was able to recover, Christine lost her Pomeranian in the burglary. At the end of the court announcement, Margeaux was honored with a round of applause, cheers and a special medal that she seemed proud to wear during the parade.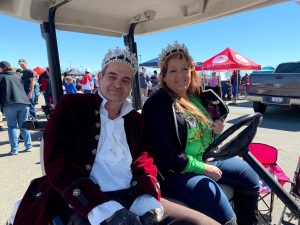 After the court was named and well photographed, all the pets gathered for the parade which began a little after 3 p.m. Beads, cups and other throws such as dog treats, were passed out as the krewe made it way through the crowd.

Besides people watching and animal sightings, the parade brought together pet owners and even want-to-be owners from all over the Ark-La-Tex. With booths like the Humane Society and Ninna's Road to Rescue, many without pets had the chance to start thinking about pet ownership and even adopting a rescue animal. Robinson's Rescue also had a booth to share advice on spaying and neutering your pets.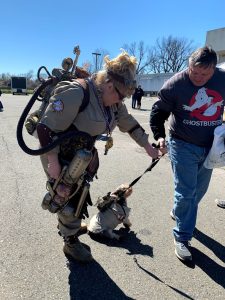 For those who had furry friends, there were many areas to get free treats or learn about other pet friendly businesses which are locally owned. Some of the businesses were Hollywood Feed, Camp Bow Wow and Luxurious Dog Houses, which displayed two of the many options for custom dog houses.
Celebrities also attended the parade. Maximus, of the Bulldog Chronicles wasn't signing autographs but he had his own booth and was accepting pats on the head.
Admission to the parade was a suggested $1 donation. All the funds raised during the parade went to three different nonprofits who were able to sign up the most participants. Last year, the Krewe of Barkus and Meoux donated over $17,000 to support animal nonprofits with missions to help and serve the local pet population.
You can learn more about the Krewe of Barkus and Meoux and how to get involved on their website.