A school with a rich history now has a new home in North Bossier. Established nearly 50 years ago, The Theatre School of Dance and Pilates has settled in to its new location at 3900 Viking Drive and has held classes at its new building since Jan. 21.
"The big difference at our new location is more space. We needed more dance space, lobby space and more parking, all of which our new location has," Emily Huber Seale, the director and owner of the Theatre School of Dance, said.
Seale took over the school in 2003 at the age of 19 from owner Marion Mills, who originally founded the school in 1971.
"After graduating high school, I enrolled at [Louisiana State University-Shreveport] to become an art teacher and started working to complete my certification as a registered teacher with the Royal Academy of Dance," she said. "Owning a dance studio was far from my mind. During that freshman year of college, I was training and teaching at Theatre School of Dance under Celia Mills and Marion Mills. By the end of my freshman year in college Celia had decided she was ready to close the school. I was left heartbroken because the studio played a huge role in my life. Through a wise lady in my life and my parents, God showed me that I needed to look into taking over Theatre School of Dance."
Since then, Seale along with her staff and faculty, continues to train excellence in dance in what she calls a "safe emotional environment bringing glory to God."
Religion is a large part of the school's vision and plans. So much that the school has a special group dedicated to worshiping God through dance.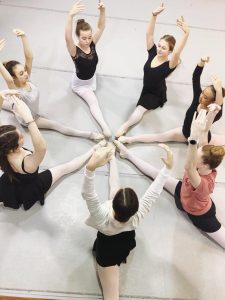 "We have a performing group named Adorare Performing Arts. Adorare means to worship God alone," she explained. "This is another part of our studio that allows for students to have more opportunists to perform throughout our community. Students who are interested and eligible, audition and have a separate rehearsal time aside from their regular technique classes."
The Adorare group of students perform several times a year at the Red River Revel, churches, retirement communities, the Theatre School of Dance Christmas Gala and at the Centenary College amphitheater. Look out for performances by following the school on their website.
Another element of the school is to assist in building a career for students educated at the Theatre School of Dance.
"Each year the Royal Academy of Dance, out of London, England, sends an examiner from another part of the world to test our students. The examiner gives feedback on progress of the students participating in the exam on a world standard. Exams start at age six and if a student follows the program through, passing the Advanced 2 level, they will receive an associate's degree from the RAD," Seale said.
Seale recognizes Bossier as being filled with talented students.
"Students that follow our program are fully prepared to enter the professional dance world," Seale said. "By following the Royal Academy of Dance curriculum and exam process, students can receive an associate's degree in dance by the age of 18 at our studio.
"We have several students that are currently in the professional dance world. We are proud of them. My staff and I talk about goals for our students and we absolutely want to give them all the training and tools they need to dance professionally, but we want to also grow 'professional' people. Send out students to many careers that use life skills they have learned at the studio through dance training. It is character building, not just dance training."
For any parent hoping to start their child in dance classes, Seale recommends beginning with ballet.
"Ballet is the foundation of all dance. It develops coordination, control, stability, musicality, discipline, joy in movement and so many more things. I encourage parents that even if a child does not 'love' ballet, keep them in it because it is training so many other qualities in the child that feed into other dance styles, sports and life," she said.
The new location also has expanded classes offered to adults, however Pilates classes are a separate part of the studio.
"I hope that the Pilates studio will allow for a new avenue of strength training for our community," she said. "Pilates will benefit all walks of life [from] athletes to senior adults. Pilates focuses on core stability while strengthening the arms and legs. Clients can view our schedule and pricing at the MINDBODY app. It is free to download and look for TSD & Pilates to see specifics."
To learn more about the school, enrollment and the classes offered, go to their website. Information on Pilates can also be found on the site or by calling 318-741-3878.