From March 18-23, the Shreveport-Bossier Convention and Tourist Bureau (SBCTB) and its partners held their 318 Restaurant Week. This initiative is a great way to showcase the amazing eats that our area has to offer. The week consisted of specials at a variety of restaurants in town as well as some special events. This year, the East Bank District in Bossier was included in 318 Restaurant Week with the Dining in the East Bank event.
Chris Jay, Social Media & Public Relations Manager for SBCTB, says there is so much energy and excitement surrounding the East Bank they knew they had to include them in 318 Restaurant Week.
"From relative newcomers like BeauxJax Crafthouse to established, long-running local traditions like L'Italiano, there's a real diversity of dining experiences there," Jay said. "Any conversation about great places to eat and drink in Shreveport-Bossier has to include the East Bank District. We also have incredible partners in folks like the Flying Heart Brewing & Pub and Bossier Arts Council – whenever they're involved in an event like this, you just know that they're going to shout it from the rooftops."
In general, the initiative has been a great way to raise the overall profile of Bossier-Shreveport's dining scene. Jay says it has definitely had a positive impact on the local economy.
"318 Restaurant Week uses exclusive discounts, offers and one-night-only experiences to incentivize the public to try new restaurants that they've never tried before," he said. "Just last night at The Port Grill's one-night-only event, more than half of the crowd had never been to The Port Grill before, which was really exciting to see. Many of us are 'creatures of habit' when it comes to dining out, we kind of stick to the same three or four places that are our tried and true favorites. 318 Restaurant Week encourages the public to get out of that rut and try some the new, different, and local spots that we've been meaning to try. That kind of support can make a huge difference for a small, independently owned eatery."
The Dining in the East Bank event featured a walking tour with stops at the Bossier Arts Council (BAC), Flying Heart Brewing & Pub, L'Italiano, Retro 521 and BeauxJax Crafthouse. Each stop featured a sampling of something delicious that restaurant had to offer. The tour began at BAC as the tour guide gave a little bit of history on the area. After that the group went to the first food stop of the tour:
Stop #1: Flying Heart Brewing & Pub
Beer samples were given at Flying Heart Brewing & Pub. Attendees were welcomed to the beer garden and given three small flights of beer including the brewery's famous Firehouse Blonde.
Stop #2: L'Italiano
At L'Italiano, guests were served their authentic meatballs covered in homemade tomato sauce. Red wine and fresh baked bread were paired with the sample. Owner Claudio Giacalone passed away about a month ago, now his son has taken over the family business. He says he plans to continue his father's legacy with the restaurant.
Stop #3: Retro 521
Guests were welcomed into Retro 521 at the third food stop of the tour. Owner Kristi Tift was there to welcome everyone with slices of "Crack" cake and freshly brewed coffee. Their café also offer delicious lunch options like their hipster salad and chicken salad options.
Stop #4: BeauxJax Crafthouse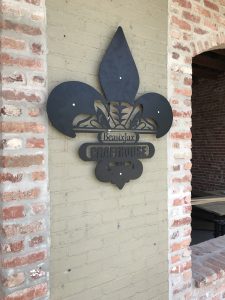 The final stop of the tour was BeauxJax Crafthouse. Owner Beau Hays gave a short intro on his business and how they are continuing to expand. Guests were served their spicy and savory gumbo.
Alex Richardson attended the event and he says he loved getting to try all the different flavors that are offered at restaurants in the East Bank District.
"BeauxJax's gumbo was phenomenal and L'Italiano's meatball was a close second."
Overall he says the event was a great way to spread the word on how fast the East Bank is growing.