The East Bank Gallery is currently hosting the Life & Legacies exhibit and it is so worth stopping in to see! Stained glass, watercolors, lamps and Fleur-de-lis galore make this team of artists a must-see before the exhibit closes on April 2.
Michael Byrnes is the Community Development Coordinator at the Bossier Arts Council (BAC). He and the gallery's committee coupled the artists Julia Raring and Eric Allen for this exhibit.
"We paired these two individuals together because they seemed to mesh," Byrnes said. "He has nice floral designs, she has nice floral designs. He has nice Louisiana stuff, this is all Louisiana stuff. It all sort of meshes and melds together. The 'life' of her (Raring) and the 'legacies' of his (Allen's) family."
Julia Raring is the mother of two and wife of a Barksdale Airman. Her father was in the Navy, so Raring has moved around most of her life. She has been in Bossier now (this time around, anyways) for seven years and plans to remain and call Louisiana her home.
Raring has numerous watercolor paintings on display in the exhibit, the vast majority of which are of fleur-de-lis showcasing a variety of familiar, Louisiana-influenced imagery in the backgrounds. Raring reflects with humor now her initial attitude toward the fleur-de-lis because, like many Louisiana transplants, she was initially not a fan of them.
"When I first moved here, I hated fleur-de-lis," Raring said. "I was like, I'm never going to have a fleur-de-lis in my house! And what do I do?" She gestured to all of her art on the walls and laughed.
Raring's fleur-de-lis contain very different content that is reflective of her life here: crawfish, a B-52, Mardi Gras, and local buildings are just some examples of what her work portrays.
On the other side of the gallery you will find on display the legacies left by Ed and Carol Allen. One of the couple's sons, Eric Allen, brought the collection of works together to offer a really shining example of how his parents' passion for art gave birth to beautiful work and also inspired other artists to create.
"45 years ago, my mom wanted a Tiffany lamp and sent my dad to the Broadmoor Y.M.C.A. to take a stained glass class. And he piddled around on the back porch for 5 or 6 years," Allen says while looking at a lamp hanging in the center of the gallery. "And Mom started designing things for Daddy to make, so she knew they would look right."
During Ed's "piddling" on the porch with stained glass, both he and Carol grew more than fond of the art…they were downright passionate. When Ed's glass supplier was no longer going to be selling the glass he needed for his craft, the supplier financed Ed to help him purchase the material and thus Ed's Emporium was born.
In the gallery at the BAC, dazzling stained glass works hang in the windows as well as on the walls. Next to the lamp (that Ed did finally finish for his wife) is a large detailed jellyfish and nine stained glass frames depicting life in the Allen household.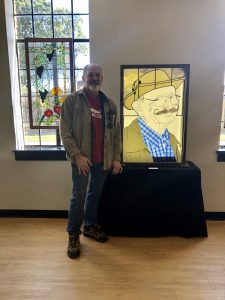 A favorite piece of Eric's is one that speaks to the personality and charisma of his father. Ed's trademark, a handlebar mustache, sits perfectly on a stained glass walrus who appears to be smiling and holding a bottle of beer. Below the walrus, there is a black and white photograph of Ed himself, mustache and all, playfully holding the walrus piece.
There are other pieces from the students of the Allen's as well as work's of Eric and his brother, Bruce, who is a Professor of Art at Centenary College.
The most eye-catching piece, though, might have to be the leaded, stained glass portrait of Ed that Eric made. It contains an array of glass, built in layers. Reactive glass adds vibrant, realistic tones to the jacket on Ed, wild pieces of tube-like glass composing the mustache and intricate, realistic-looking zippers of hand-spun glass from a vitrograph.
The energy of the Allen's legacy is contagious. Eric says that this will be the last time all of the pieces will be together, as most of them are destined for other homes within the family or elsewhere.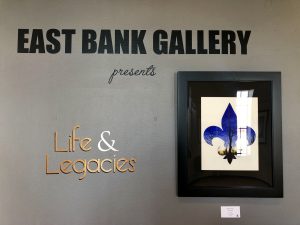 The Bossier Arts Council pairs up artists for display in the East Bank Gallery and those exhibits each run for 2 months. Gallery applications are available for aspiring or established artists who are interested in having their work displayed. While it takes around 4 months for the committee to organize and make decisions, artists can expect to wait 1-2 years to have their work on display, if they are selected.